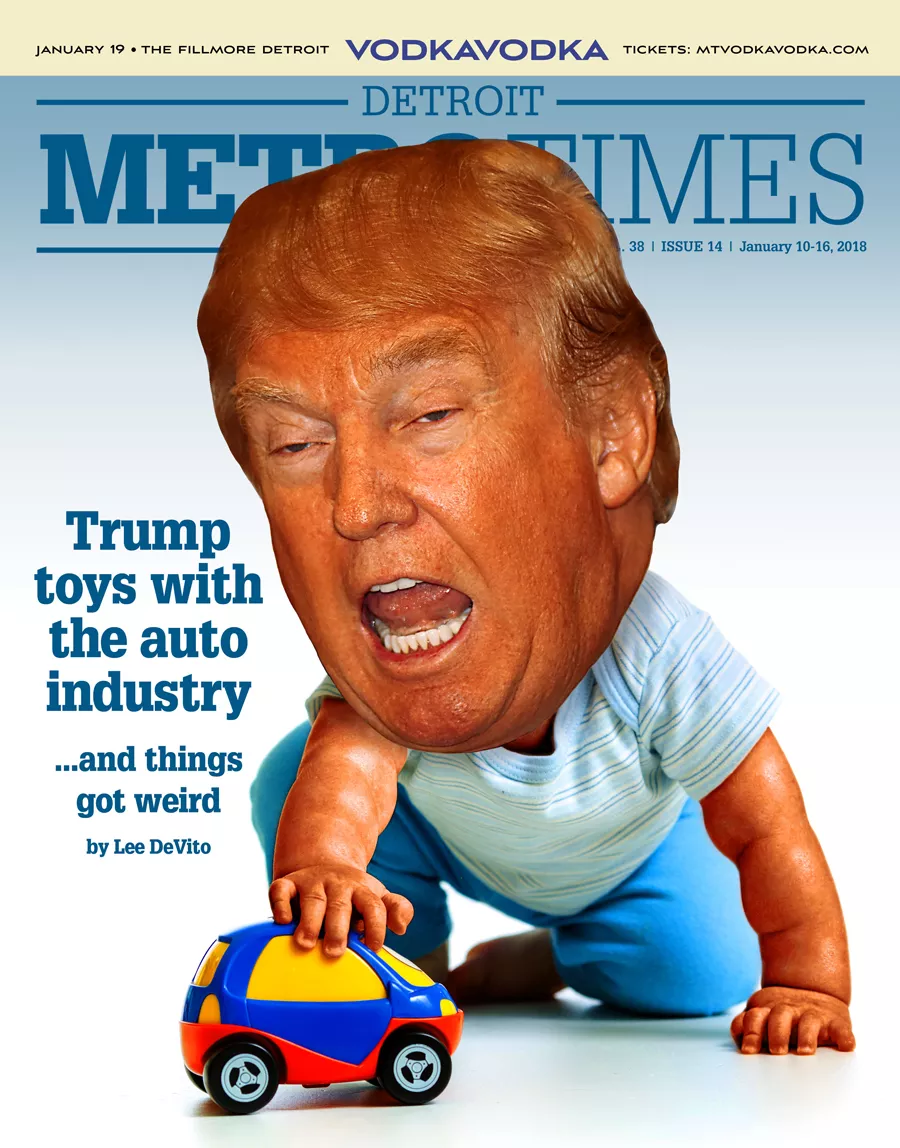 On the afternoon of March 15, 2017, President Donald Trump made his first visit to Michigan since the campaign trail. Michigan, of course, ought to have a special place in Trump's heart. As one of the three Rust Belt states making up the so-called "blue wall" that unexpectedly flipped red, Michigan helped Trump land his stunning victory in 2016 — due at least in part to his numerous campaign promises to invest in U.S. manufacturing, and in particular an interest in talking about the auto industry.
Ypsilanti's new American Center for Mobility was chosen as the site of Trump's first visit as president. Originally known as Willow Run, the site is inextricably tied to the history of U.S. industrial might. Henry Ford purchased the land, then a farm, in 1931 as part of a program to teach inner city children about rural life. By World War II, Edsel Ford erected a factory there to manufacture B-24 Liberator bombers as part of the Arsenal of Democracy. One of the plant's workers, Rose Will Monroe, would even become known as a real-life version of the iconic folklore hero Rosie the Riveter.
The facility was later sold to General Motors, where it was used to manufacture vehicle parts until GM ceased operations there in 2010. But in 2016, Gov. Rick Snyder announced the site would soon get a new lease on life as proving grounds to test autonomous, self-driving vehicles — the next phase of automotive innovation.
In true Trump fashion, the Ypsilanti visit was a grand ordeal. The president was shown 11 U.S.-made cars, including a made-in-Detroit Jeep Grand Cherokee and a Mustang made in nearby Flat Rock. Executives from Detroit's "Big Three" automakers — GM's Mary Barra, Ford's Mark Fields, and Fiat Chrysler's Sergio Marchionne — were on hand for a roundtable discussion, as well as United Auto Workers President Dennis Williams. The Big Three even bused in hundreds of its workers to the facility so they could watch a speech from Trump, who took the stage under a banner that read "Buy American — Hire American."
Yet despite the nature of the venue, Trump didn't mention autonomous vehicles even once during his 20-minute speech. He didn't mention electric vehicles, or even hybrids. Instead, Trump seemed more interested in a return to the industry's past.
The president spent much of his speech with the singular focus of attacking "industry-killing regulations" and "job-crushing taxes," including Obama-era fuel efficiency standards, the North American Free Trade Agreement, and the Trans-Pacific Partnership.
He also took the opportunity to address his voters.
"There is no more beautiful sight than an American-made car — no more beautiful sight," Trump said to a round of applause. "I love this state, I love the people of this state. And you did me a big favor, because you gave me a victory, and that victory hasn't been won by a Republican in a long time — long time. And you're going to be very happy, believe me. You're going to be very, very happy."
The crowd seemed to eat it up. "We want to be the car capital of the world again. We will be. And it won't be long, believe me," Trump declared. "The era of economic surrender for the United States is over — it's over."
He then praised the Big Three for making some "very wise decisions" regarding a number of recent moves. He also seemed to praise himself.
"Already, we're seeing jobs coming back. Since my election, Ford has announced 700 new jobs coming back to their plant in Flat Rock, Michigan. Fiat-Chrysler has announced that they will create 2,000 new jobs in Michigan and Ohio. And just today — breaking news — General Motors announced that they're adding or keeping 900 jobs right here in Michigan, and that's going to be over the next 12 months. And that's just the beginning, folks. In fact, I told them, that's peanuts — that's peanuts. We're going to have a lot more."
The jobs had nothing to do with Trump. The Fiat-Chrysler and Ford announcements were made before Trump even took office. Both Fiat-Chrysler and GM pointed out that their plans both dated back to UAW contracts signed in 2015. And Trump failed to mention that on Nov. 9 — the day after he was elected — GM announced it was laying off 2,000 workers in Michigan and Ohio.
Fields was perhaps purposefully ambiguous with Ford's announcement, appearing to play it both ways. "When we make decisions like this as a company ... first we do what's right for our business. This makes sense for our business," he told CNN, but added that Ford looked at "all factors, including what we view as a more positive U.S. manufacturing business environment under President Trump."
Nevertheless, Trump persisted. "The assault on the American auto industry, believe me, is over. It's over," he told the crowd in Ypsi. "Not going to happen anymore."
Trump's speech got positive reviews. "Here's a guy who wants to bring Detroit back to its greatness," a Fiat-Chrysler assembly line worker and Trump voter named Paul Thayer told Bloomberg. "Let's give him a chance."
Even the UAW's Williams — who had been critical of Trump on the campaign trail, and backed both Obama and Trump's 2016 rival, Hillary Clinton — seemed to be won over, especially when it came to Trump's views on renegotiating NAFTA and pulling out of the TPP.
"He's been the first president that has addressed this issue," he said, Bloomberg reported. "I'm going to give him kudos for it. We've been hollering about this for 20 years and he is the first president who has brought this up."
But not everyone assembled was buying it. Outside, several hundred held signs protesting the president and his policies.
"I do not believe that he is responsible for bringing jobs back," a woman named Karen Moss told WXYZ. "I think that is another con job. I think our auto executives are responsible for that."


Less than a year into his first term, the headlines are dominated with reports about the Trump administration's many scandals. A federal investigation into whether Trump's campaign colluded with Russia is ongoing, as is an obstruction of justice investigation into his firing of former FBI director James Comey over the Russia probe.
Despite the president's attempt at a cease and desist, Michael Wolff's bombshell tell-all book Fire and Fury: Inside the Trump White House dropped on Friday, painting a portrait of an utterly dysfunctional Oval Office led by an erratic snake oil huckster who allegedly never wanted the job anyway. Prompted by the salacious details presented in the book, on Saturday morning Trump went on a twitterstorm defending his own sanity ("I think that would qualify as not smart, but genius... and a very stable genius at that!") and denouncing the Russia investigation as a hoax, all but guaranteeing the news cycle would focus on his mental state for at least the next few days. It's been a surreal ride.
But even as the president seems caught in this constant cycle of scandal, work continues on major regulatory and legislative efforts that could have significant impact on the auto industry. It prompts the question: Is the Trump administration helping or hindering the auto industry, especially in Detroit?
Throughout his campaign to "Make America Great Again," Trump repeatedly mentioned the Big Three, along with other U.S. manufacturers. He promised to bring manufacturing jobs back to the U.S., and to make the country an attractive place for companies to do business.
Trump's heavy hand is a far cry from the waning days of the George W. Bush administration, when executives from the Big Three flew to Washington to beg for a government bailout that was at the time criticized by Republicans. And it's fundamentally a major break from the Republican party's typically laissez faire economic approach.
Republicans, especially Michigan Republicans, didn't seem to mind — nor did they seem to mind Trump's misogyny, racism, and xenophobia, not to mention his lack of traditional conservative values. Even certain Obama voters were willing to set that all aside. Finally, somebody in politics seemed to get it, they thought — "it" being the importance of U.S. manufacturing.
But Trump's relationship with the auto industry wasn't always so warm. In fact, on the campaign trail, it could be downright contentious. Trump would often take credit for industry news that had nothing to do with him, but automakers seemed not to mind — as long as he stopped bullying them on Twitter.
Trump's relationship with the auto industry wasn't always so warm. In fact, on the campaign trail, it could be downright contentious.

tweet this
Back in 2015, then-candidate Trump attacked Ford's decision to build a new $1.6 billion plant in San Luis Potosí, Mexico, promising to bring those jobs back to the U.S. by slapping the made-in-Mexico cars with a 35 percent tariff. He also promised to dissolve NAFTA. Later in 2015, Trump took credit for Ford moving a plant from Mexico to Ohio. "Word is that Ford Motor, because of my constant badgering at packed events, is going to cancel their deal to go to Mexico and stay in U.S.," he tweeted.
In reality, Trump — who is so fond of denouncing the mainstream media as "Fake News" — appeared to have himself been duped by a fake news article that falsely claimed he persuaded the company to move production from Mexico to "struggling Youngstown, Ohio."
Ford has no facilities in Youngstown. While the company had recently shifted production of trucks from Mexico to Ohio, that deal was in the works since 2011. Ford was still going ahead with its new Mexican plant.
It didn't matter to Trump. "Do you think I will get credit for keeping Ford in U.S.," he tweeted. "Who cares, my supporters know the truth. Think what can be done as president!"
Throughout the campaign trail, Trump continued to slam the company, causing Executive Chairman Bill Ford to reportedly fly to New York to try and get the candidate to tone it down. But by September 2016, Trump was at it again, talking about Ford's new Mexican plant at a campaign stop in Flint.
At the Los Angeles Auto Show in November 2016, just a week after Trump's election, Fields defended Ford's Mexican operations and attacked Trump's border tax, saying, a tariff "would be harmful, I think, to the entire industry and the economy, and therefore we want to engage in a very productive set of discussions."
Fields also defended NAFTA. "The facts are when we look at something like NAFTA, production and supply chains are deeply integrated across the three countries," he said. "A lot of that integration supports U.S. jobs, and we want to make sure we're looking at those facts."
Two days later, Trump tweeted that he got a call from Ford. "Just got a call from my friend Bill Ford, Chairman of Ford, who advised me that he will be keeping the Lincoln plant in Kentucky — no Mexico," he wrote. "I worked hard with Bill Ford to keep the Lincoln plant in Kentucky. I owed it to the great State of Kentucky for their confidence in me!"
This wasn't accurate, either. A statement issued by the company clarified that Ford told Trump the company canceled plans to move production of its low-selling Lincoln MKC from Louisville to Mexico. But the company said it was never planning on closing the Louisville plant — or even shedding any jobs.
A Wall Street Journal report revealed that by January, the Big Three seemed to be frantically trying to figure out what to do with this "new, unpredictable force" that was about to enter the White House. Fields even said he spent the holidays re-reading Trump's autobiography The Art of the Deal "to better understand the new occupant of the Oval Office," according to the WSJ. (Apparently nobody told Fields The Art of the Deal ghostwriter Tony Schwartz has since disowned the book as a work of fiction. "I put lipstick on a pig," he said.)
Weeks before taking office, Trump took aim at GM for importing its Chevy Cruze from Mexico. "Make in U.S.A. or pay big border tax!" he tweeted. This, too, was inaccurate — the company charged that the majority of its Cruze models are made in Ohio, and most of the Mexican-made Cruzes are sold outside of the U.S.
Mere hours after Trump attacked GM, Ford announced it would scrap the San Luis Potosí plant entirely and reinvest in Flat Rock. Fields reportedly called Trump to tell him the news before it went public. Like clockwork, Trump tweeted. "Thank you to Ford for scrapping a new plant in Mexico and creating 700 new jobs in the U.S.," he wrote. "This is just the beginning — much more to follow." Days later, when Fiat-Chrysler made its jobs announcement, Trump once again took to Twitter to take credit. "It's finally happening," he wrote.
But Marchionne cautioned that he needed more information on Trump's policies before making any further decisions on Mexican investments. "I need clarity. I think we all need clarity," Marchionne said when asked about Trump. "And we are not the only ones that need clarity."

Early on in his administration, President Trump appeared to make good on his word in making the auto industry a priority. GM's Barra was invited to join Trump's Strategic and Policy Forum, a business advisory council that included CEOs from corporations like Disney, IBM, Wal-Mart, and JPMorgan. On Jan. 24 — his first Tuesday on the job — Trump hosted the Big Three execs to a breakfast meeting at the White House. It was the first time a president met with the Big Three since 2011. (Curiously, executives from foreign-based automakers such as Toyota, Honda, Nissan, and Hyundai were not invited, even though all have U.S. plants and employ tens of thousands of workers.)
At the meeting, Trump eschewed talk of a border tax in favor of instead discussion about reforming the Environmental Protection Agency. "It's absolutely crazy," he told the group. "I am to a large extent an environmentalist. I believe in it. But it's out of control. We're going to make a very short process. Generally speaking we're going to give you your permits. We're going to be very friendly."
The kumbaya moment didn't last long. Less than a week later, Trump issued an executive order banning travelers to the U.S. from seven primarily Muslim countries. Fields, along with executive chairman Bill Ford, issued a joint statement condemning the move. The company — headquartered in Dearborn, home to the largest concentration of Arab-Americans in both Michigan and the U.S. — said it did not support the policy, "or any other that goes against our values as a company."
There would be other rifts. In June, Trump — who believes climate change is a hoax — announced the U.S. would break from the Paris climate accord, an agreement among United Nations members to mitigate greenhouse gas emissions. Previously, in December 2015, the Big Three along with other automakers had signed a two-page commitment to "decarbonize" automotive transportation in response to the Paris treaty.
Again, the companies vocally opposed the president.
"GM will not waver from our commitment to the environment and our position on climate change has not changed," the company said in a statement. "International agreements aside, we remain committed to creating a better environment."
"We believe climate change is real, and remain deeply committed to reducing greenhouse gas emissions in our vehicles and our facilities," a statement from Ford said. "Our commitment to sustainability is why we're investing so heavily in electrification and adding 13 new electrified vehicles to our lineup."
Elon Musk, CEO of Silicon Valley automaker Tesla, resigned from the president's advisory council in protest, apparently frustrated he could not change the president's mind. "Am departing presidential councils," he wrote on Twitter. "Climate change is real. Leaving Paris is not good for America or the world."
Coincidentally, Trump's Paris accord announcement came on the same day as GM's annual sustainability report, which outlined the company's commitment to the environment. "Environmental stewardship and sustainability are part of our business model and core to our operations," Barra said in the report.
For now, Barra would decide to stay on the council.


With Trump, the Big Three find themselves in the position of attempting to tame the untamable.
"The industry is in a peculiar position," Paul Eisenstein, a journalist who has written about the auto industry for more than 30 years, tells Metro Times. "You've got a president who has been attacking automakers left and right since he became a candidate. He is proposing a number of things that the industry, to be honest, hates — like the border tax. And they certainly hate the idea of having trade agreements and other things torn up that could completely disrupt a global production network that has taken decades to put in place."
Yet at the same time, Trump can potentially offer things the industry wants — like loosening fuel efficiency standards and other regulations.
"(The industry) is in a peculiar place where they both have to stand up to Trump and yet at the same time they have to flatter him and his seemingly very fragile ego," Eisenstein says.
It's a lot of theater. Those job announcements Trump cited during his Ypsilanti speech had been in the works long before he was elected, but the timing of the announcements seemed to indicate an attempt on the automakers' part to please the president.
Then there was Ford's decision, announced weeks before Trump's inauguration, to cancel its new Mexican plant.
"That was much ado about nothing," Eisenstein says.
In reality, Ford canceled the San Luis Potosí plant when it realized demand for small cars had dropped so much that it decided it couldn't support another Mexican plant. It instead decided to shift the production of its small cars, including the Ford Focus, to an existing plant in Hermosillo, Mexico, and expand its Flat Rock operations.
"The decision, in fact, simply reflected the economic realities of the markets," Eisenstein says.
To a degree, the mainstream media was complicit in entertaining this fantasy. "Donald J. Trump has promised to change the way American automakers do business. Less than three weeks before his inauguration as president, he has already knocked the companies on their heels," the New York Times proclaimed following the Flat Rock announcement. "GM to invest $1 billion in U.S. after pressure from Trump," read a Detroit Free Press headline, implying a cause and effect.
Factory plant projects can be under study anywhere from months to years. The proposal to scrap the second Mexican plant, Eisenstein says, was already in the hands of Ford's board of directors before the November election, back when it seemed likely that Hillary Clinton was going to win. "So they certainly didn't do it because of Trump. They did it purely for economics," he says.
"What you find is some of the manufacturers would very much like to appease him, and so they're being vague about how their decisions were made," he says.
Eisenstein notes other U.S. industry developments that have been long in the making. New plants by Volvo and Mercedes-Benz planned for Charleston, South Carolina set to open during Trump's term were both initiated under Obama, as were expansions by Mercedes in Alabama and BMW in South Carolina. "South Carolina is a great example of how Donald Trump seems to have a relatively poor understanding of what's happening in the industry," Eisenstein says.

Due to today's global economy and trade agreements like NAFTA, the concept of an "American-made" automobile is a gray area these days. According to a recent American-Made Index study, the most "American-made" car is the Toyota Camry — made in Kentucky and Indiana.
"The reality is the single largest automotive exporter operating in the U.S. is BMW. Honda and Toyota aren't far behind," Eisenstein says. "BMW and Mercedes, and secondarily the Japanese, are the reason we do have a reasonable number of American made cars being exported today."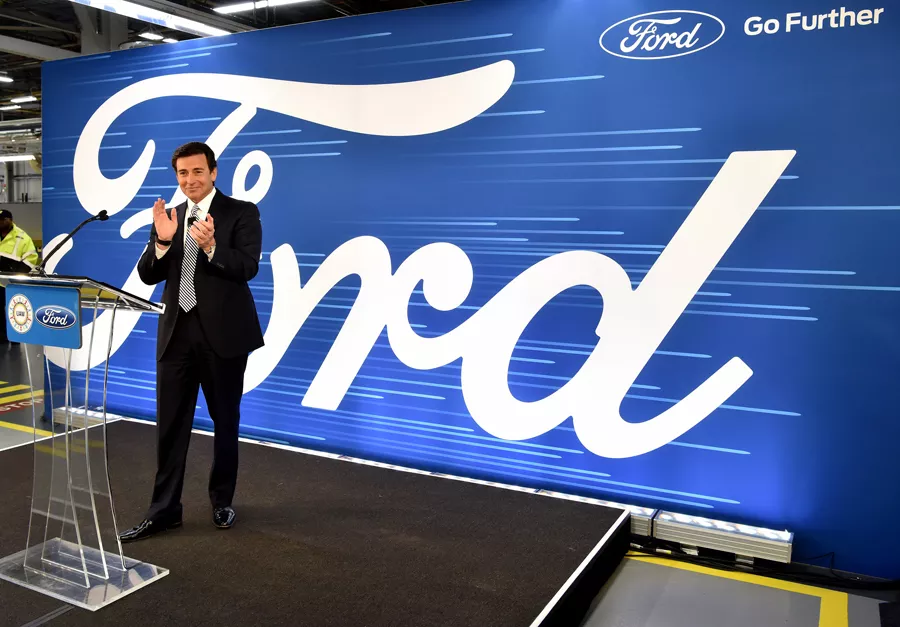 It's now been nearly a year since Trump's White House meeting with the Big Three execs. Marchionne is set to retire next year. Fields was ousted in May, replaced by new CEO Jim Hackett, following concerns of Ford's falling stock prices and a perception the company was lagging behind in the race to get autonomous vehicles on the road.
There was also a feeling that Fields had bungled the company's relationship with Trump. Citing an unnamed source familiar with Ford's board of directors, The Wall Street Journal reported there was a perception that Fields "unnecessarily put the iconic car company on President Donald Trump's radar" during the 2016 campaign when he announced the plan to move Ford Focus production from Michigan to Mexico without pointing out that the company had plans to preserve those jobs. Later, Fields' announcement that the Mexican plant would be scrapped created confusion and "ended up costing the company hundreds of millions of dollars in lost investment," according to the WSJ.
Once Hackett took the helm, he announced the company would shift gears yet again. The Focus would not be built in Mexico after all. Instead, the company realized it could save even more money by building the model in China.
Trump's Strategic and Policy Forum was abruptly disbanded in August. Some members resigned in protest of the president's lukewarm condemnation of the violent clash between white supremacists and protesters in Charlottesville. GM's Barra did not, apparently caught between two undesirable outcomes. If she resigned, she would lose her seat at the table, and risked alienating pro-Trump GM customers. If she stayed, it could incite a boycott.
It was a choice Barra wouldn't have to make. On Twitter, Trump claimed to have been the one who decided to end the council, yet offered little explanation as to why. ("Rather than putting pressure on the businesspeople of the Manufacturing Council & Strategy & Policy Forum, I am ending both," he said. "Thank you all!") But Barra's statement suggested the true cause.
"General Motors is about unity and inclusion and so am I," she said. "Recent events, particularly those in Charlottesville, Virginia, and its aftermath, require that we come together as a country and reinforce values and ideals that unite us — tolerance, inclusion, and diversity — and speak against those which divide us — racism, bigotry, and any politics based on ethnicity."
Ironically for Trump, 2017 is the first year since 2009 to see U.S. auto sales slip.

tweet this
When asked for an interview about working with Trump, a spokesman for UAW's Williams repeated a statement the union president made often over the past year. "There are certain things that we have worked with presidents on that are in the interest of our membership and working men and women in this country, and we'll do the same with President Trump," he said. "But, we're not going to shy away or walk away from the core principles we have. There may be issues we are in conflict with, but it doesn't mean that we can't work with the administration on things that I think are very important to the American public, and American workers, and UAW members throughout the globe."
A Ford spokesman said the company "will continue to offer our point of view on how public policy can best support American manufacturing and innovation, including policies to accelerate the safe deployment of autonomous vehicles and trade policies that support U.S-based manufacturers." A GM spokesman said the company "(looks) forward to continuing our work with the administration on policies that support a strong and competitive economy and automotive industry, in addition to improving vehicle and road safety and the environment." (A spokesman for Fiat-Chrysler declined to comment.)
Ironically for Trump — who has been so eager to take credit for events that had gone into action long before he took office — 2017 is the first year since 2009 to see U.S. auto sales slip. 2016 saw the industry reach a record high of 17.55 million new vehicles sold. 2017's totals fell to 17.2 million, and sales are expected to drop further in 2018.
"Now, critics will certainly blame (Trump), but in reality the market was going to slide this year no matter who was in office," Eisenstein says. "This is a cyclical thing that everyone was expecting, no matter who won the White House."
How much further and how quickly the market declines could have much to do with what the Trump administration does in the year ahead. Representatives for NAFTA are set to meet in Montreal at the end of the month to negotiate the trade deal. The American Automotive Policy Council, a coalition representing the Big Three, created a new campaign called Driving American Jobs to try and dissuade Trump from pulling out of NAFTA entirely. In November, the coalition met with Vice President Mike Pence to try and get his support as well.
It may be that dismantling NAFTA is Trump's battle alone. According to a CNBC report, GOP lawmakers "began seeking reassurances in December from the administration that it would not withdraw from NAFTA as talks enter their final stretch in early 2018." According to the report, a "heated exchange" took place between Sen. Lamar Alexander (R-Tenn.) and top U.S. trade representative Robert Lighthizer at a White House meeting on Dec. 5. Alexander reportedly challenged Lighthizer to name one single GOP senator who would support a NAFTA withdrawal.
Aside from the corporate tax cuts in the GOP tax plan signed into law by Trump in December, which automakers will likely appreciate, there hasn't been a major headline regarding the president and the auto industry in months.
Of course, with Trump being as erratic as he is, this could change at any time. The industry lurches on.