By now you've probably heard the news. Democratic dark horse Bernie Sanders prevailed in the Michigan primary election Tuesday. He gathered 49.8 percent of the votes (65 delegates), compared to expected-winner Hillary Clinton who took in 48.3 percent of the votes (58 delegates).
The win is being touted in the media as evidence that Bernie's campaign has more life than expected and that this bodes well for future primaries in big states like Ohio and Florida.
More than that though, mainstream media — who often feed off the projection polls — is sort of wagging its tail pointing out just how off the forecasts were. In fact in some polls Hillary was expected to win by as much as 25 percent.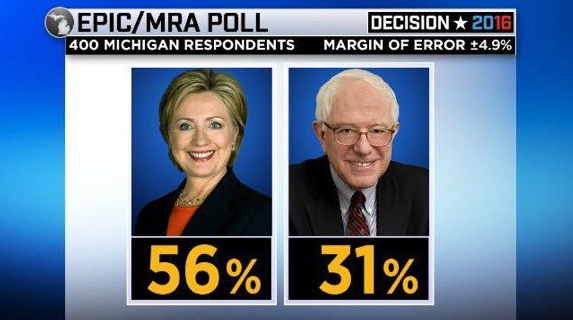 FiveThirtyEight's Harry Enten has a
great article
on why the Sanders win — in light of the projection polls — was so stunning.
"The question I am asking myself now is whether this means the polls are off in other Midwestern states that are holding open primaries. I'm talking specifically about Illinois and Ohio, both of which vote next Tuesday. The FiveThirtyEight polling average in Illinois gives Clinton a 37 percentage point lead, while the average in Ohio gives her a 20 percentage point lead. If Michigan was just a fluke (which is possible), then tonight will be forgotten soon enough. If, however, pollsters are missing something more fundamental about the electorate, then the Ohio and Illinois primaries could be a lot closer than expected," writes Enten.
Projection polls have always been big during elections, but this year seems a bit out of control. Voters are being told what is going to happen — which in some cases can sway votes, influence media coverage and ultimately change the trajectory of an election. Bernie's win in Michigan brings these practices into question.