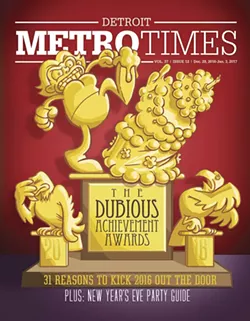 Every year is full of achievements — often proud ones illustrating how far we've come.
That's not what this issue is about.
No, this year, we're focusing on achievements that show how far we have to go.
Whether it's the antics of Gov. Rick Snyder's administration, a brief invasion of creepy clowns, a strip-teasing fiftysomething politician, or any of a dozen other misguided, off-course, out-of-proportion, anticlimactic, or just plain bizarre events this year, we wanted to encapsulate those stories that show how weird it can get here in Michigan and metro Detroit.
Hence our year-end piece: The Dubious Achievement Awards.
It's a sort of homage to the annual year-end roundup the wags at Esquire magazine did until 2008. It's also a blast from our own past: We emulated the awards in our 2004 and 2005 year-end issues, complete with a golden mascot whose pants were frozen in mid-drop.
What is it that earns somebody a Doobie? The deed should be memorable — usually because it shouldn't ever be repeated. It should be possible to sum up in about 100 words. And it should induce a giggle, a guffaw, or at least an open-mouthed awe.
And what better image to lead off this endeavor than that inspired by the Oakland County mom who apparently went ballistic and drop-kicked a confection at a local supermarket, sending cake and icing flying all over the place. We like to think our mission is similar: making sure everybody gets a look at some of the hottest messes of 2016 — right after they wipe the frosting out of their eyes.
Didn't see that one coming
As far as crooked corporate news items go, this one's almost heart-warming. Ervin Brinker, 70, the former CEO of a community mental health authority in Battle Creek, is sentenced in January to 32 months to 10 years in prison for embezzling Medicaid funds. Why did he need all this extra money? Drug habit? Private dances? Italian suit fetish? No, our good man Brinker stole $510,000 from Medicaid to make payments to a psychic palm reader and her husband in Key West, Fla. Maybe next time, he'll find a better psychic.
Poison isn't free, you know
Flint started the new year off by sending shut-off warnings to residents. In late 2015, the city had been enjoined from sending shut-off warnings — remarkably, not because the city's water contains hazardous levels of lead, but because of a court injunction stemming from a billing lawsuit. But with the injunction expiring and the holidays over, Flint returns to sending shut-off warnings when its residents don't pay the highest rates for water in the country — for poison. Think you'd just thumb your nose at the city and refuse to pay? Think again: In Michigan homes without water service, parents can be referred to social services and run the risk of losing their children.
Water cooler talk
In January, after Flint's water crisis had been officially declared a state of emergency, emails obtained by the group Progress Michigan reveals that a year before, the Snyder administration discreetly trucked water coolers into a state building. According to one email — sent days after the city told residents that the smelly, rust-colored water was safe to drink — water coolers were to be placed next to the water fountains, so that government employees "can choose which water to drink." Apparently for the Snyder administration, what was good for the goose was not good for the gander.
Say "cheese!"
With news spreading far and wide that a Snyder-appointed emergency manager's poor decisions led to the city's water being poisoned with lead, the guv reacted swiftly: hiring not one but two public relations firms, and staging a showy photo op of him signing a short-term aid bill. But with a half-million people already demanding his resignation, you'd think Snyder and his handlers would know better than look positively tickled as an all-white crowd of smiling Republicans presents the aid bill as if it were a birthday gift to him. One PR professional called the photo a classic case of "how to make a horrible situation look worse."
A poke in the brown eye
In February, the Michigan Senate passes a bill declaring all sodomy not just illegal, but a felony punishable by as much as 15 years in prison. The law was not targeted solely at homosexuals, but was improbably linked to new legislation drawn up against the act of bestiality. That's right — there wasn't a law against bestiality, and it does make sense to try to pass one. But to make it a felony for anyone to commit "the abominable and detestable crime against nature with mankind or with any animal" is not only beyond unnecessary, it risks being declared unconstitutional, as anti-sodomy laws have already been declared. It's like a Reese's Peanut Butter cup, except instead of chocolate you have sexuality-based hatred, and instead of peanut butter, you have ... oh, we'll stop now.
What were they smoking?
In March, a zoning ordinance to regulate Detroit's medical marijuana dispensaries goes into effect, barring shops from operating within 1,000 feet of schools, arcades, parks, party stores, child care facilities, churches, public housing, and other dispensaries. The problem? That leaves few parcels city available to consider opening a business and tapping into Michigan's budding marijuana industry. As a cursory glance at the city's Medical Marijuana Caregiver Center Eligibility Search Engine reveals, the ordinance creates wide swaths of "green ghettos" — in a city where 1 in 4 households doesn't own a car, and public transportation stinks.
The blame game
The Flint saga continued in April with Attorney General Bill Schuette announcing criminal charges against what would become the first patsies of the crisis, filing felony charges against two DEQ officials and one city of Flint official. In July, he would charge three more DEQ employees and three Michigan Department of Health and Human Services employees. In December, Schuette charged four more people, including former Flint emergency managers Darnell Earley and Gerald Ambrose.