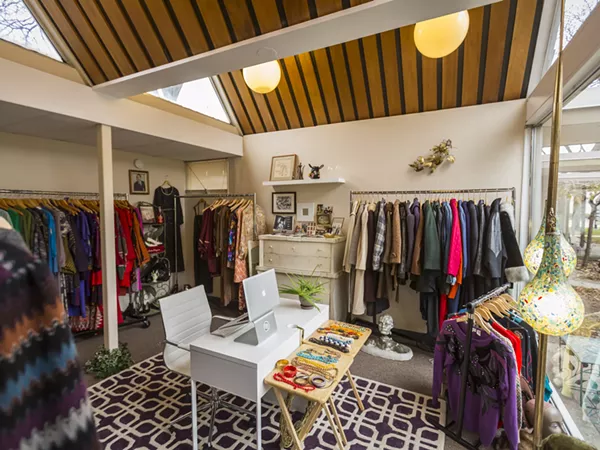 It's Small Business Saturday, that time of year when you're encouraged to shop local in the name of economic ethics. But if you want to supercharge your virtuous shopping experience, consider a place that celebrates a time when things were actually made here.
The Lowry Estate
, a vintage shop that's settling into fresh digs in Farmington, is one such store — and you won't have to sacrifice product quality in the name of what's right. Owner Corliss Elizabeth Williams stocks highly curated items in a variety of sizes, sticking mostly to '70s, '80s, and '90s pieces that can be integrated with wardrobes of present day.
"I'm the anti-having-cat-eye-glasses-and-1950s-cocktail-dresses vintage seller," says Williams. "But I do stay true to the vintage shopping experience; there's nothing on my rack that's not authentically vintage or top notch vintage-inspired, like [for instance] a Marc Jacobs top."
Fresh off a two year stint slinging vintage in Brooklyn, Williams, a creative director at a magazine by day, has returned to Michigan with a collection that reflects her keen eye for timeless style. Williams' taste was passed down to her by her mother, Corliss Sheffield Williams, and grandmother, Mabel Lowry, for whom the shop is named. Lowry was "a professional and independent woman who traveled the world in Ferragamo and fur," says Williams, and the store aims to channel her essence.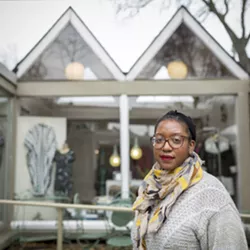 "The tagline that I have is 'own the room,'" says Williams. "It's about feeling confident and standing out."
What began as a raid on an elegant grandmother's closet has managed to stay stocked with vintage wares through what Williams describes as a "secret" formula that involves mining estate sales. In the new space on Orchard Lake Road — her first stateside brick and mortar — she has developed what she describes as an "intimate, made-for-you shopping experience."
The collection, spread across five racks, is color-coded and easy-to-navigate, and the price points are accessible. Dresses and tops can go for $28, while a Giorgio Armani suit may go for $400.
The Lowry Estate is open on Saturdays and Sundays from noon to 5 p.m. and by appointment. It's located on 23023 Orchard Lake Road in Building F. The shop will be open from 11 a.m. to 7 p.m. on Small Business Saturday. Williams will also have booths at Eastern Market's
Sunday Street Market
,
Noel Night
, and the
Ponyride Holiday Makers Market
.