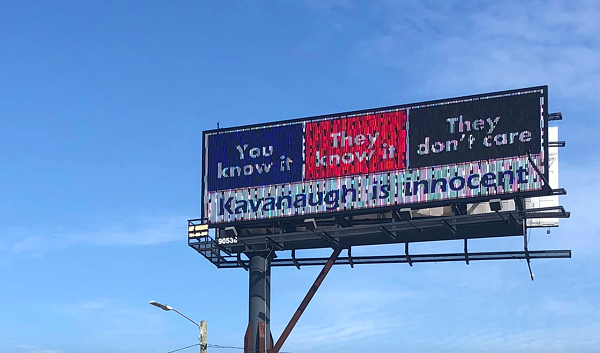 The electronic billboard on the heavily trafficked corner of John C. Lodge Freeway and Livernois Avenue is host to a number of advertisements, including a Marvel Universe Live show, the Varsity Ford dealership in Ann Arbor, and the Fox 2 News morning show. And now, there are two highly inflammatory additions: A hearty endorsement of President Donald Trump, and a defense of Trump's embattled Supreme Court nominee, Brett Kavanaugh. One reads, "Red Pills. Everyday," with the name of Trump subreddit, r/The_Donald. The other reads, "You know it," "They know it," "They don't care," and – perhaps falsely — "Kavanaugh is Innocent."
The messages, which appeared earlier this week, are among half a dozen new Trumpian billboards throughout metro Detroit. The man behind them is Sreeny Cherukuri — a self-described libertarian-federalist and pro-Trump Republican.
We talked to him about what the hell he's on about.
Of the "red pills," Cherukuri says they're "a reference to
The Matrix
movies ... kind of a nod to the whole fake news thing. Just like in
The Matrix,
there's one story being told, but then there's the real story."
The red pill is a key symbol in the MAGA movement. On Reddit, the
r/TheRedPill
board has been "quarantined" by the site's administrators because it contains misogynistic and hateful speech. The red pill reference, which is, more broadly, a metaphor for an epiphany of harsh reality, has been used by several fringe groups over the years, including the so-called
"meninist" movement
and other far-right groups. (Its embrace by the right is perhaps somewhat unintentionally ironic, given that
The Matrix
films were created by two transgender women.)
"You can take the blue pill to stay in wonderland, or you can take the red pill to wake up," says Cherukuri.
The red pill reference is accompanied by an illustration of a MAGA hat-wearing, flag-waving Trump supporter. He stands above the
"r/The_Donald,"
subReddit, which — in the words of its moderators — "is a never-ending rally dedicated to the 45th President of the United States, Donald J. Trump."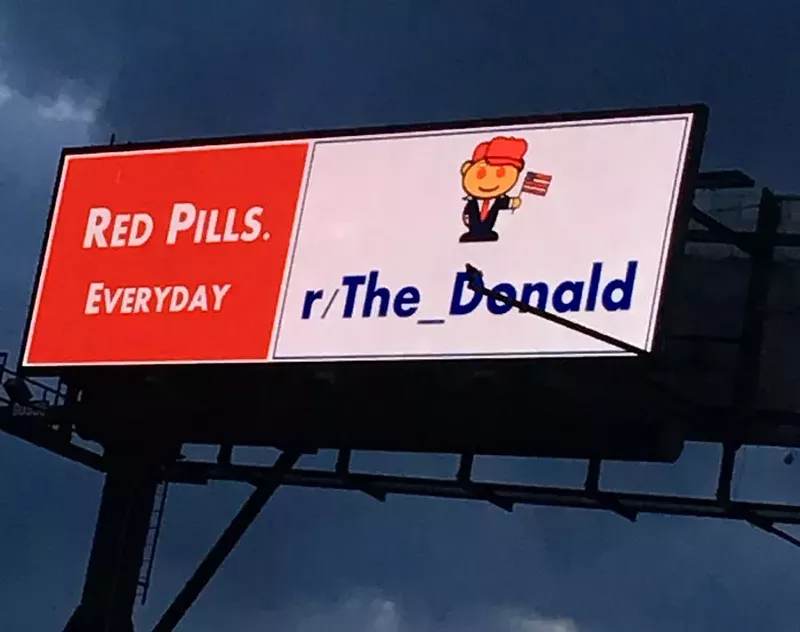 "There's a lot of independent research, healthy debate, and good ideas [in the channel]," says Cherukuri, a self-described "lurker" of the group. "Now more than ever people need to do their own research and not just believe what they see on the mainstream media. I wanted to contribute to the political debate and direct people to new perspectives."
Cherukuri, who describes himself as an entrepreneur currently "between projects," says he has donated to Republican political campaigns for years, but took matters into his own hands because he found the various campaigns' advertisements to be obnoxious and ineffective.
But, he admits with a chuckle, "I'm not saying mine's less obnoxious."
It was around the time he cast a ballot for Trump in 2016 that he began going straight to the source, and renting billboards on his own dime. "It's my way of trying to bring the conversation into focus," he says.
Cherukuri declined to reveal how much he is paying to rent the spot on Livernois and Lodge. Billboard owner Arbor Valley Properties, a Plymouth-based company, also declined to comment on the price, but said it does "not endorse any messages on the sign."
As for Kavanaugh being "innocent," the FBI was never really given an opportunity to find out if he was guilty. The half-baked investigation permitted by Trump following negotiations during last week's Senate judiciary hearing on Kavanaugh came up with nothing new. The Senate voted to move forward on the nominee in a 51-49 vote today. A formal vote is expected tomorrow.
Will Feuer is a
Metro Times
fall editorial intern.

Stay on top of Detroit news and views. Sign up for our weekly issue newsletter delivered each Wednesday.