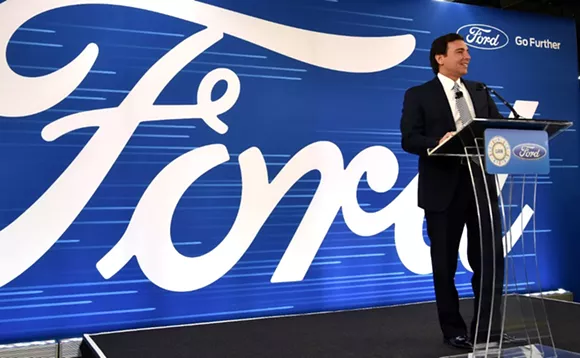 Ford announced a shift in gears on Tuesday, scrapping plans to build a plant in Mexico to instead expand its operations in Michigan.
The announcement came mere hours after Donald Trump
(somewhat inaccurately)
tweeted a threat about General Motors' Mexican production, and follows months of the President-elect slamming U.S. companies for moving manufacturing out of the country.
But while Trump supporters — and Trump himself — will likely take credit for Ford's move, the company's president and CEO Mark Fields was careful to characterize it as strictly a good business decision.
"We didn't cut a deal with Trump. We did it for our business,"
Fields told CNN in a video interview
Tuesday. "That's what drives us in every business decision that we make."
The company said it is investing $700 million in its Flat Rock facility to make new electric and autonomous vehicles, a move that it said will create 700 new U.S. jobs. The proposed Mexican factory would have cost $1.6 billion.
That said, Fields acknowledged Trump's rhetoric was a factor — but stressed that the decision was made independently of the President-elect.
"When we make decisions like this as a company ... first, we do what's right for our business. This makes sense for our business," he said. "And we look at all factors, including what we view as a more positive U.S. manufacturing business environment under President-elect Trump. It's literally a vote of confidence around some of the pro-growth policies that he has been outlining. And that's why we made the decision to invest here in the U.S. and our plant here in Michigan."
To be clear, Ford is still moving its production of small vehicles to Mexico. The Ford Focus will still be produced in Mexico, just at an existing Mexican plant instead of the canceled plant. "[T]he reason we are canceling our plant in Mexico, the main reason, is because we are seeing a decline in demand for small vehicles here in North America," Fields said. "So as a company, we are always looking at our capacity and asking ourselves where can we fully utilize it."
Fields admitted he did speak to Vice President-elect Mike Pence before the announcement, but emphasized that it was not part of the decision-making process. When CNN asked Fields if Trump's attempts to influence corporations amounted to "crony capitalism," Fields doubled down and said the decision had more to do with Trump's proposed tax and regulatory policies, including bringing the corporate tax rate down.
"He has said very clearly that he wants to create a very positive business environment for businesses to invest in the U.S.," he said. "We'll have to see how that rolls out, but again, this is a vote of confidence that we feel very good about that kind of direction and in making these kind of business decisions."
The company's Flat Rock production will now include a hybrid Mustang, which will debut in 2020. The company will also begin production of a new electric SUV and a new autonomous vehicle at the Flat Rock plant.
Watch the CNN interview
here
.