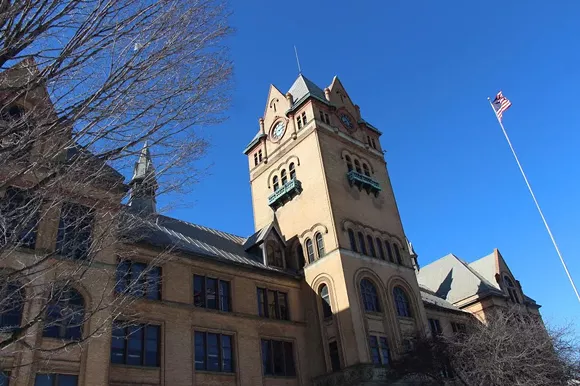 This post has been updated to remove a reference to a report that said there are 28 sanctuary campuses in the U.S. That number has not been verified.

Wayne State University President M. Roy Wilson says the school will not become a "sanctuary campus" following
a petition effort
by students and faculty at the school.
In an email
sent to the Midtown campus community Tuesday, Wilson said the
"ill-defined and politically charged designation" is unnecessary because the
school and its police already do not ask for or share the immigrant status of students
unless required to do so by subpoena or court order.


More
than 1,500 people signed the petition asking for the designation along with about a dozen
other demands. A PhD student who helped drafted the proposal says declaring
Wayne State a sanctuary campus would have provided a powerful symbol.


"Wayne
State University, given its mission statement and its international identity as
a diverse [and] inclusive school in an urban environment, should be a leader in
the sanctuary movement," said student Nate Kuehnl, who vowed to continue
organizing. "It's not enough to just have 'diversity' as a university value. We
need to walk the walk."


In
denying the request of students, faculty and others, Wilson noted that no other
Michigan universities have adopted the designation, and that the
majority of colleges and universities across the country have declined
to do so as well. Only about a dozen schools, most of them private, had declared themselves sanctuaries according to Wilson's statement.

At issue is the potential loss of federal funding that could accompany taking on
such a label. President Donald Trump has already moved to deny federal funds to cities that don't comply with federal officials in deporting undocumented immigrants. Congress introduced legislation last month to financially punish sanctuary campuses. And in Michigan, House lawmakers have introduced a bill that enacts financial penalties on local units of government who don't comply with federal officials on immigration issues.
"It's a very difficult decision," Charles Parrish, president of the WSU chapter
of the American Association of University Professors/American Federation of
Teachers, said prior to Wilson's email. "The president and the board are
hesitant because of the political situation in Lansing and nationally."
Though he stopped short of declaring Wayne State's campus a sanctuary, Wilson did heed the petitioners' request that he sign a statement in support of the Deferred Action for Childhood Arrivals Program protecting immigrants whose families illegally brought them to the U.S. as children. Wayne State had until now been absent from the list of 600 U.S. colleges and universities supporting DACA. The leaders of five other Michigan universities had signed the statement early on.

While petitioner Kuehnl said he appreciates Wayne State's joining the list, he says the university still "has not offered a public declaration supporting its immigrant community and denouncing rhetoric that would mean it harm."
Wilson's Tuesday message was at first only sent internally and did not accompany the list of public statements on his website until late afternoon. Kuehnl said it showed the university's "failure to lead on these issues."
Others who backed the petition described Wilson's support for undocumented students as weak when compared with that of other Michigan universities. The University of Michigan's president, for example, went a step further than Wayne State by coming out in support of legislation known as the BRIDGE Act, which would allow individuals in the U.S. who arrived as children to stay in the country for another three years without the threat of deportation. That school also said it would establish a working group to help it better understand the needs and concerns of international members of its campus community and to consider ideas for additional support.