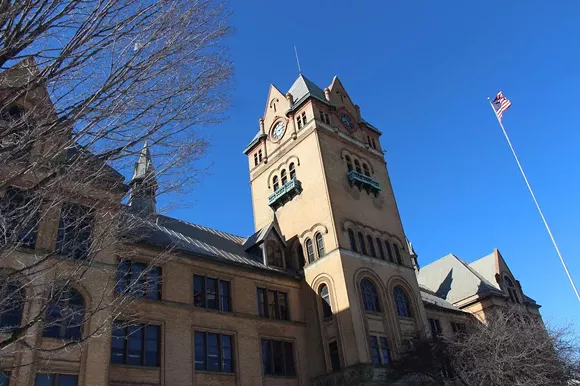 On Thursday evening, a Wayne State University teacher posted a photo on social media
showing racist graffiti
that appeared in a campus bathroom that read "Fuck Ya'll Niggers #Trump'sAmerica."
In an emailed statement, WSU President M. Roy Wilson said the university is launching a full investigation and is reviewing video surveillance footage. "Such actions will not be tolerated," he wrote. "Not only are they detestable; they are criminal."
The incident follows other recently documented racist acts on local college campuses. At the University of Michigan,
anti-Semitic emails
were sent to the school's Computer Science and Engineering undergraduate students that said "White power! The KKK has returned!!! Heil Trump!!!!" At Central Michigan University, someone in the campus' College Republicans club made Valentines with
an anti-Semitic joke
. Meanwhile, Eastern Michigan University
is investigating
incidents of anti-black racism on its campus.
Wilson's full statement is below:
Dear campus community,

Yesterday evening I learned of several incidents where people left hateful, racially disparaging graffiti in public areas on our campus.

I always find such behavior abhorrent, but I am deeply disappointed this has happened at Wayne State, where we embrace and respect our differences and strive to live by our values of diversity and inclusion.

Such actions will not be tolerated. Not only are they detestable; they are criminal. The Wayne State University Police Department has begun investigating these incidents and is reviewing video footage from the areas where they occurred. The department also will be increasing its vigilance to help prevent further occurrences.

We learned of these incidents from social media posts that were identified through WSU's social media channels. While this alerted us to the situation, we will be able to respond more quickly if the incidents are reported directly to the campus police, along with any additional information available (e.g., time, location, photographs). If you have witnessed or know of others who have witnessed these crimes, we ask that you please call WSUPD at 313-577-2222.

In these times of change and uncertainty, passion is understandable, but hatred and violence are not. We cannot allow these incidents and the small-minded people who perpetrated them to either intimidate us or deter us from our mission and values. This is our university, and we all play a role in its progress, not only through our own success but also through the support and success of others.

Regards,

M. Roy Wilson
President