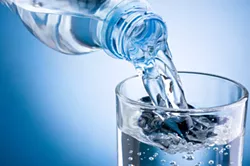 Water sources in three Wayne State University buildings have been turned off due to higher than acceptable levels of lead.
"The College of Education building and the Meyer L. Prentis Cancer Center were found to have lead levels above the [Environmental Protection Agency] action level in several water fountains," says an article in the university's student paper,
The South End,
noting that the EPA drinking water "action level" is 15 parts per billion, and the flagged fountains had ranges between 16 ppb and 30 ppb.
The story was picked up by our pal Alan Stamm over at
Deadline Detroit
, who adds that, on June 2, the university added a third building — the Skillman Building at 100 E. Palmer — to its list of those buildings with unsafe drinking water.
Buildings with unsafe water have had the water sources removed. The school is also offering free blood tests to those who have drank water from any of the flagged fountains.
As Stamm points out, levels of 30 ppb — the highest found on Wayne's campus — are still way below the highest levels found in Flint (158 ppb was the peak there, according to a Virginia Tech study cited by Stamm).