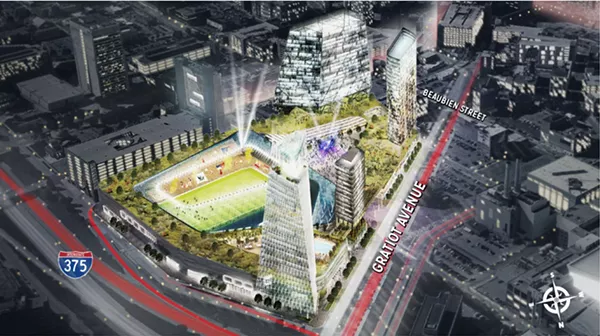 Good news for Dan Gilbert: Wayne County is poised to move forward with his plan to build the county a criminal justice complex in exchange for the site of the "fail jail" on Gratiot Avenue near Greektown, where he and the owner of the Pistons want to build a professional soccer stadium.
In a release, Wayne County Executive Warren Evans says the proposal by Gilbert's Rock Ventures to build a new justice center elsewhere "has more upside, less risk and a smaller financial gap" than an alternative plan submitted June 28 by Walsh Construction, the company that completed initial work on the jail before the project was halted in 2013 due to cost overruns.
Rock Ventures' proposal offers to build the county a new criminal justice center with a 2,280 bed jail, criminal courthouse, prosecutor offices, sheriff administrative offices, and a juvenile detention facility for $520 million with the county responsible for $380 million. Under the plan, the county would not be on the hook for any cost overruns, but it would have to acquire the city-owned land needed to build the complex at the I-75 Service Drive and E. Warren Ave.
Walsh Construction's proposal, meanwhile, would cost the county about $353 million. It includes two jail options at the Gratiot site, with approximately 1,608 beds at $269 million and 2,200 beds at the cost of $317.6 million, and an additional $36 million to renovate the Frank Murphy Hall of Justice.
Evans says analysis of the Walsh proposal "raises concerns it would likely cost as much if not more to finish the Gratiot jail and renovate the Frank
Hall of Justice than the county's contribution to the Rock Ventures-proposed criminal justice center." Evans says the potential for cost-overruns under the Walsh plan were a major concern for the county. He says Rock's proposal for an expanded jail would also mean $7 million in annual operational savings, which would offset the additional cost for building a larger jail.
But obstacles toward reaching a final deal with Rock remain. In addition to having to acquire the land where a new facility would be built (a Detroit Department of Transportation maintenance facility currently sits at the site), the county will also need to figure out whether the IRS will let it use tens of millions of dollars in jail bonds at a site other than Gratiot.
Gilbert and Pistons owner Tom Gores also face a separate hurdle of their own: they have not yet been granted approval by Major League Soccer to create a Detroit club. The pair has proposed the team play at a $1 billion 25,000-seat stadium and mixed-use development they plan to build at the site of the partially-built jail. Their goal is to have the stadium ready by 2020.