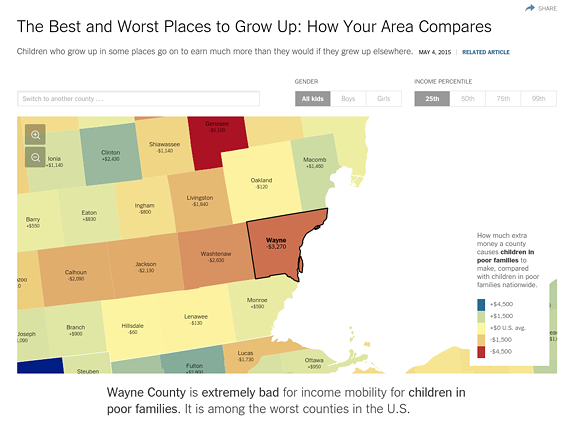 Wayne County is the state's most populous, but it holds the distinction as one of the worst in the U.S. for income mobility,
according to a report from The New York Times
that highlights a recent Harvard University study.
Location matters – enormously. If you're poor and live in the Detroit area, it's better to be in Sanilac County than in Wayne County or Genesee County. Not only that, the younger you are when you move to Sanilac, the better you will do on average. Children who move at earlier ages are less likely to become single parents, more likely to go to college and more likely to earn more.

Every year a poor child spends in Sanilac County adds about $100 to his or her annual household income at age 26, compared with a childhood spent in the average American county. Over the course of a full childhood, which is up to age 20 for the purposes of this analysis, the difference adds up to about $2,100, or 8 percent, more in average income as a young adult.
Genesse County actually fares worse than Wayne, but the
Times
says it's better than only 5 percent of all counties in the nation in "helping poor children up the income ladder."