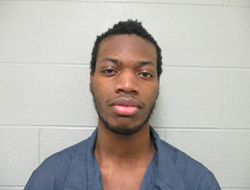 You can't trust Ohio with anything.
A Wayne County carjacker who was serving four to 10 years in a Michigan prison was accidentally released from a county jail in Ohio on March 23, and he's still on the lam.
Christopher Bibbs Jr. was transferred to the Warren County Jail to make a court appearance in an unrelated drunken driving and firearm case. While in the lockup, county officials released the 21-year-old man and allowed him to leave on foot.
Michigan authorities have been looking for him since.
Now they're asking for the public's help in locating him.
The Michigan Department of Corrections (MDOC) believes Bibbs is in the Detroit area. He is 5 feet 10 inches tall, weighs about 160 pounds, and has brown hair and brown eyes. A tattoo on his left forearm reads, "Only the strong survive."
Bibbs had been serving his sentence in the Thumb Correctional Facility in Lapeer since May 2022 after he was convicted of a carjacking in Wayne County.
Anyone who spots Bibbs is asked to call 911 or a 24-hour tip line at 844-362-8477.
"Citizens should not approach this individual if they see him and should contact law enforcement immediately," MDOC said in a news release.
Subscribe to Metro Times newsletters.

Follow us: Google News | NewsBreak | Reddit | Instagram | Facebook | Twitter