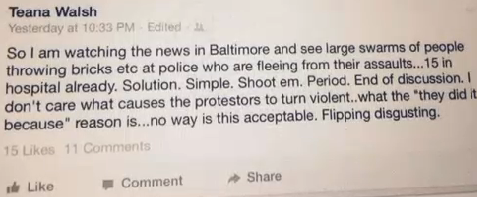 A Wayne County attorney has voluntarily resigned after suggesting on Facebook that Baltimore police officers could end violence in the city if they "shoot" protesters demonstrating in wake of 25-year-old Freddie Gray's death.
"This afternoon Assistant Prosecutor Teana Walsh called Prosecutor Kym Worthy to announce that she is voluntarily resigning her position with the Wayne County Prosecutor's Office. Prosecutor Worthy has accepted her resignation," said Assistant Prosecutor Maria Miller, in a statement Friday.
The prosecutor's office said Walsh's post was "completely out of character for her" and "does not reflect the person that we know.
Protests continued throughout the week in Baltimore after Gray, an unarmed black male, was arrested and died while being transported to a police precinct. Baltimore's chief prosecutor announced charges Friday against six officers involved in the arrest, including murder and manslaughter. Gray suffered a serious spinal injury while in the police van, the prosecutor
says
.
Demonstrations were peaceful, but simmering tensions between some residents and Baltimore police ended in riots earlier this week; more than 200 people were arrested,
according to The New York Times
, after cars and buildings were set on fire.
To address the issue, attorney Walsh posted on Facebook, she suggested this:
So I am watching the news in Baltimore and see large swarms of people throwing bricks, etc at police who are fleeing from their assaults ... 15 in the hospital already. Solution. Simple. Shoot em. Period. End of discussion. I don't care what causes the protestors to turn violent...what the 'they did it because' reason is...no way is this acceptable. Flipping disgusting.
In light of Walsh's remarks, it's worth pointing out a compelling read from Jeb Lund over at Rolling Stone on the issue presented when
news outlets focus solely on violence in wake of Gray's death
. (Spoiler: they completely avoid context in the situation.)