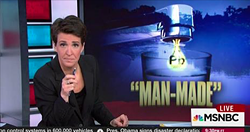 Monday night Rachel Maddow — who has already done a
fantastic segment
covering the Flint Water Crisis — had on her show Bryn Mickle an editor of Flint Journal/MLive.
The conversation centered around Mickle and his news organization's call for a federal investigation into
what
Snyder (and his administration) really knew about the poisoning of Flint's water supply — and more specifically (with the power of subpoenas)
when
Snyder knew the magnitude of what was happening.
Last week the Snyder-appointed Flint Water Advisory Task Force announced findings that the Department of Environmental Quality was "primarily responsible for failing to ensure safe drinking water in Flint." Two resignations — director Dan Wyant and communications director Brad Wurful — followed the news.
The DEQ definitely had faults during this entire crisis. Wyant admitted that his department was using incorrect federal standards to assess Flint's water for about 17 months and Wurful, well, essentially the task force called him out for acting like a major jerk in the way he handled all communications on the matter of the water crisis. That said, questions still remain if this is the true extent of accountability. Did the buck stop at the DEQ? Or is the department merely a "fall guy" for higher ups like the governor.
That's where Mickle and his news organization come in. While there are some hints and clues that Gov. Snyder knew what was up earlier than he has let on it is nearly impossible to truly get to the bottom of this because Michigan is one of only two states where the Freedom of Information Act Request does not apply to the governor (WTF!). This is why Mickle and his team are requesting an investigation from the US Attorney's office — it is the only way emails and documents from the Governor would be forced into daylight as they can use subpoenas.
"I think the people of Flint, rightfully so, have lost trust in their government," Mickle told Maddow, explaining his call for action. "They were told something is safe and clearly it wasn't. I don't think it's enough just to be promises that there will be an open and transparent process. We need an independent party to come in here and take a look at everything and tell us what exactly transpired. How did this happen? And I don't think the people of Flint have faith they are going to get that from their government"
Watch the segment from last night below.