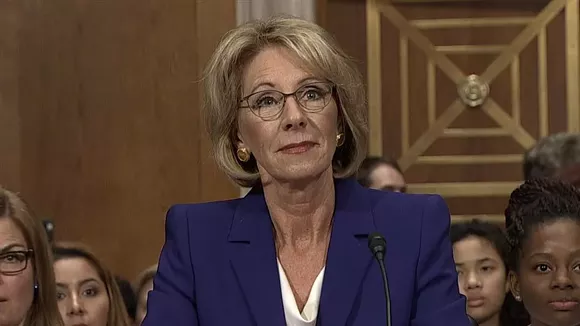 In one final rally to stop Betsy DeVos from becoming the Secretary of Education in Trump's Cabinet, Democrats are speaking on the Senate floor right now until Tuesday afternoon when the scheduled vote will go down,
Politico reports
.
Two Republican senators said that they will not vote for DeVos when the full senate vote happens on Tuesday, making Democrats even more eager to convince one more GOP senator to vote "no" and stop DeVos.
If no other Republicans decide to take a stand against DeVos, the vote will likely come down to a tie and Vice President Pence will get to cast the deciding vote. Of course, he will vote in favor of DeVos.
The 24-hour filibuster that is going down right now will hopefully bring more awareness of DeVos' track record to undecided GOP senators. As we all saw from her senate hearing last month, DeVos isn't sure about the difference between proficiency and growth, has almost no experience in higher education, and thinks that guns should be in school to warn off "grizzlies."
The filibuster is being streamed and you can check it out below.