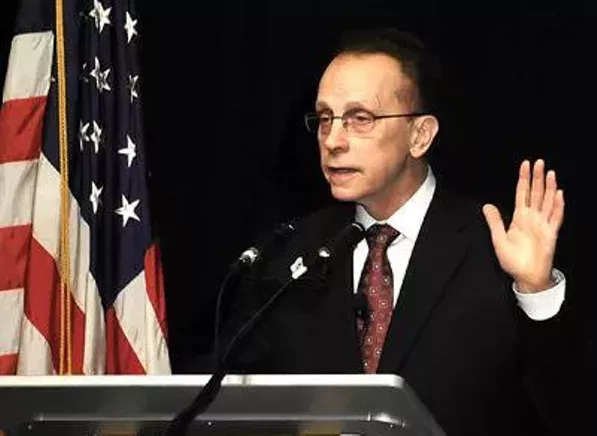 Those who partake in some form of cardiovascular exercise know how important it is to keep their heart rate elevated. Cardio boxers, for example, will keep swinging at their bags between combos. Joggers run in place at street crossings as they wait for traffic to pass.
Then there are the more diehard joggers, who are apparently so intent on keeping their heart rate up that they will blow right past people who try to get their attention.
Warren Mayor Jim Fouts finds himself in that camp. The trouble is, the people trying to flag him down are the constituents he's been elected to represent, and they're starting to get pissed.
In a lengthy statement posted to
Facebook
yesterday, Fouts attempted to allay their concerns.
"Clarification on my daily jogging," he wrote. "When I'm exercising I am trying to stay fit and that means not stopping so that I get a complete cardio exercise for my heart. If I stop then I must start all over again. So I cannot stop to visit or even talk to someone. Please understand that, if I jog by you and don't stop to talk. I'm available 24/7 but NOT when I'm jogging. Apparently some seem to think I'm obligated to stop and talk and that is not the case. Allow me time to jog without the encumbrance of stopping."
The message appears to have been prompted by one unhappy constituent in particular. Thankfully, Fouts provided plenty of detail about this mystery woman. Apparently, she had a gripe with the post office, which Fouts says he wouldn't have been able to help with anyway.
"I had a woman who stopped by my office today and was extremely angry with me because I did not recognize her and did not stop to speak with her as I jogged," he wrote. "I have previously spoken with her several times and her issue is a federal issue involving the U.S. Post Office and NOT a city issue. She has been told the same by City Attorney Ethan Vinson but is angry and not interested in that important fact. She has yelled at my staff and the city attorney's office staff as well.
*I have never personally met her in person and so I cannot be charged with not recognizing her while jogging as she has said. And when I'm jogging I'm not looking at other people just listening to my cell phone either public radio or residents that contact me on my cell phone."
A lot of interesting takeaways here. Chief among them, of course, is the revelation that Fouts, an
accused racist
who is reported to have likened black people to chimpanzees, listens to public radio.

Stay on top of Detroit news and views. Sign up for our weekly issue newsletter delivered each Wednesday.