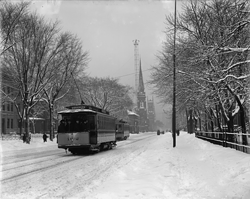 The do-gooders over at the Woodward Avenue Action Association [W3A] have a vision and, unlike most of the crew here at News Hits, those visions aren't the result of ingesting something plucked off a cactus.
Which is a very good thing because those giant buttons could really mess things up when you're trying to do something as significant as make meaningful changes to something as historic as Woodward Avenue.
You did know that the famed roadway featured the first mile of concrete road anywhere, right? Of course you did.
That brings us, in our own wayward way, to the W3A's Complete Streets initiative.
What's that?
Well, we're glad you asked, otherwise this week's column would have been mostly white space. So, as far as an official explanation of what Complete Streets is all about, we offer this brief overview that was helpfully sent our way:
"For decades, transportation and engineering plans focused primarily on making roads and streets more efficient for automotive travel – making roadways safer for motorized travel and discouraging walking, biking and transit use. Today, a paradigm shift is occurring in cities and communities across the country that is calling for the building of 'Complete Streets' that achieve equality of convenience and choice for pedestrians of all ages and abilities, bicyclists, transit users and drivers.
Instituting a 'complete street' ensures that roads are designed and function in a way that includes all users, whether young or old, motorist or bicyclist, walker or wheelchair users, bus rider or shopkeeper."
The Complete Streets initiative for Woodward was first announced in late summer of 2011, when the WA3 secured nearly $753,000 in grant money to create a master plan for the entire 27-mile stretch of Woodward Avenue, from the riverfront to Pontiac.
But, here's the deal: The master planners really want to hear what folks like you have to say as they start piecing the vision together. They've already spent a lot of man (and woman) hours laying the foundation, meeting with what they call "stakeholders" — big institutions, chambers of commerce and the like.
The planners have also been plowing through reams of documents — master plans for the various communities along the corridor, as well as outfits like MDOT and SMART, plus census data and more — to make sure they have as accurate a picture as possible for when they're ready to move forward.
The next step will be to hold three days of "of interactive community events" beginning on Monday, June 17 through Wednesday, June 19. The event will be held at 2990 W. Grand Boulevard, (West Grand Boulevard and Second Avenue) in Detroit.
Feel free to drop in and provide input from 9 a.m. to 5 p.m. on any of the days. A community meeting and presentations will take place from 5–7 p.m. on Monday, and there will be another gathering at the same time in the evening on Wednesday, when the crew lets everyone know about the ideas that have been collected. On Tuesday, from 9 a.m.-noon, there will be a walking audit and interactive design workshop.
If that sounds like a lot, well, all we can say is that this really is important.
"This three-day event is called a 'charrette' and will focus on the cities of Detroit and Highland Park," says Jason Fowler, WA3 program director. "However, all area residents and community stakeholders are encouraged to attend and help make Woodward a road that functions for everyone."
And just so no one underestimates the scope of all this, Fowler helpfully points out this undertaking is "heralded as the single largest Complete Streets planning effort ever undertaken in North America."
The goal, says Fowler, is to create a master plan that works for everyone. To some extent, it's a little like hitting a moving target. That's partly because the details of what will form the backbone of a rapid transit system in the region — something called bus rapid transit, or BRT, isn't even on the drawing board yet.
There's also a bit of a tightrope that needs to be walked, with the call being a unified vision while allowing individual communities to retain the character that makes them unique.
Don't expect big changes overnight. This is going to be a lengthy process. But those with keen eyes will begin noticing improvements before too long — little things like better crosswalks or wider medians (or something that no one has thought of yet that you might suggest).
Talking with Fowler, it's easy to get the sense that he and his compadres really do feel like they are on a mission to make this region a better place, and to put the city that put the world on wheels back ahead of the curve.
"At one point in our history we were very innovative in terms of planning for cars," explains Fowler "Now we want to be innovative planning for a new future. We want to be a model for the rest of the state, and the rest of the country as well. The way we feel is if you can do this successfully in the Motor City, you can do this anywhere."
For a more coherent explanation (those buttons are in full effect) feel free to give Fowler himself a call at 248-288-2004 or e-mail him at [email protected]
News Hits is written by Curt Guyette. Contact the column at 313-202-8004.