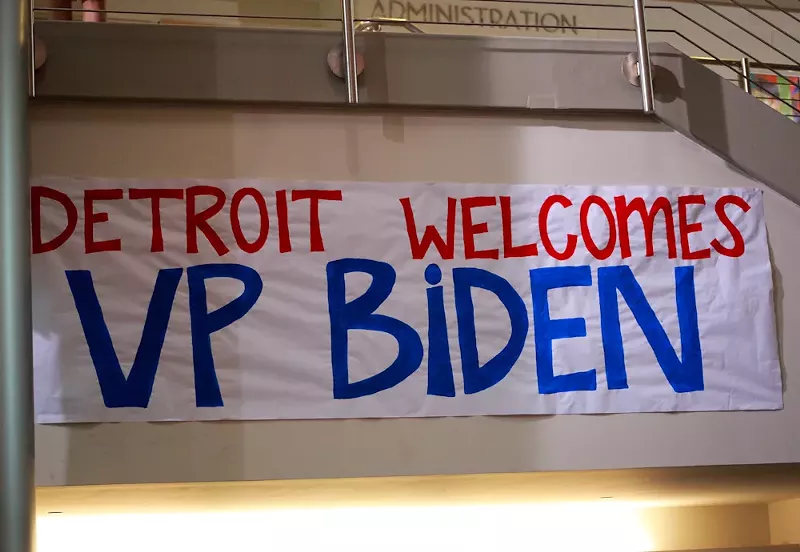 With his re-election chances looking bad, President Donald Trump delivered a televised address on Thursday where he baselessly alleged widespread voter fraud, including in Detroit.
"Detroit and Philadelphia, known as two of the most corrupt political places anywhere in our country, easily, cannot be responsible for engineering the outcome of a presidential race, a very important presidential race," he said.
(Meanwhile, on Fox News, host Tucker Carlson said, "Detroit, Michigan, one of the most mismanaged places in the Western hemisphere. Now tonight, helping to pick your president." What some call "mismanaged" others might call decades of white flight and corporate divestment, as well as emergency management under a Republican governor, but we digress.)
Trump also peddled conspiracy theories that had been circulating on the internet, such as Republican poll watchers being denied entry to TCF Center (they weren't; they
already had the maximum number inside
, and they were being unruly) and that ballots were being snuck into the building after deadline (it was
a local TV station's camera equipment
). Trump's campaign filed a lawsuit against Michigan Secretary of State Jocelyn Benson to stop the counting of ballots and grant poll watchers access, but a judge
tossed the case
because both of those things already happened. An additional allegation that ballot counters were allowing ballots to be counted that were postmarked after the deadline was dismissed as "hearsay."
And anyway, there's one major glaring problem with Trump's claims of fraud in Detroit...
Democrat Joe Biden actually got
fewer
votes in Detroit than Hillary Clinton got in 2016. And Clinton got some
40,000 fewer
votes in Detroit than Barack Obama did in 2012.
Plus, Trump got
more
votes in Detroit in 2020 than he did in 2016.
If it's fraud, that would certainly be mismanaged fraud.
We almost didn't believe it could possibly be true. The City of Detroit said it projected voter turnout would hit a record high of between 53% and 55%, a number not seen in more than 20 years. That turned out to be overly rosy, however. The final turnout wound up being 49.6% of eligible voters.
Plus, it's said that Black Detroiters handed Michigan to Biden this year, where he earned about 150,000 more votes than Trump. But how could that be true if fewer of them supported Biden than Clinton?
According to a
Detroit Free Press analysis
, Biden indeed received 233,908 Detroit votes, nearly 1,000 fewer than the 234,871 votes Clinton got in 2016.
Trump, meanwhile, got 12,654 votes in Detroit, nearly 5,000 more than he got in Detroit in 2016.
How could this be? One possibility is
Detroit has been hemorrhaging residents
since the 1950s, losing more than 2,000 residents a year in recent years. Last year, the city lost
nearly 3,000 people
. Since 2016, the city's population has dropped by at least 7,000 residents. Since 2012, it's lost more than 30,000 residents.
But those former Detroiters could account for votes Biden got elsewhere in the state, since many move north of Eight Mile to suburbs like Southfield and Farmington Hills. Indeed,
Oakland County has seen a shift from red to blue
in recent years, even electing its first Democratic County Executive on Tuesday with former Ferndale Mayor David Coulter, replacing the longtime and
vocally anti-Detroit Republican
L. Brooks Patterson. So, many of those Black Detroiters may have simply taken their votes north of Eight Mile. (Other counties that shifted blue included Kent and Leelanau counties, and Trump's edge dwindled in the famous bellwether of Macomb,
according to a Freep analysis
.)
As for Trump's slight Detroit bump, while it's possible a number of Black voters supported him, Detroit's white population has also been growing in recent years. So we're going to guess
Trump donor Dan Gilbert
and the New Detroiters who work for him are largely responsible for that.
Stay on top of Detroit news and views. Sign up for our weekly issue newsletter delivered each Wednesday.