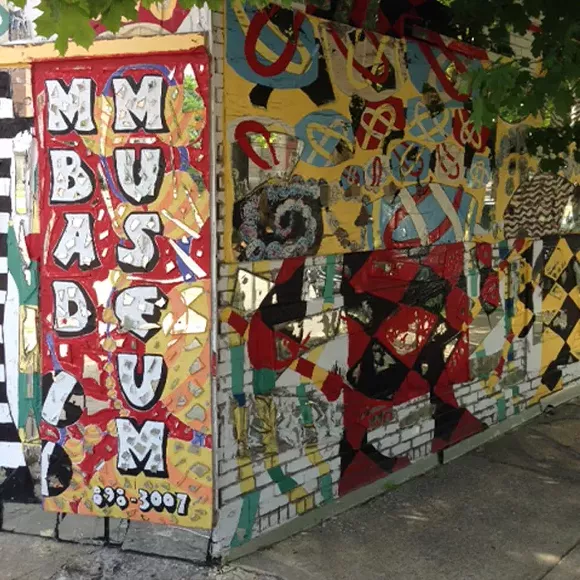 While the Knight Foundation deliberates on which finalist should win a grant as part of their
Knight Arts Challenge
, five finalists are eligible for a separate
People's Choice award
. While the Arts Challenge requires the groups to meet the Knight Foundation halfway by raising their own money, the People's Choice will award $20,000 to whichever group pulls in the most votes regardless of fundraising. Votes can be texted in to 22333 or 747-444-3548 until Aug. 29.
When
we recently spoke with Dabls
of the African Bead Gallery and MBAD Museum, one of the five finalists, he told us that a collapsed roof has caused the delays of his envisioned museum in the front part of his building (which inspired him to shift his focus to his outdoor art project instead). A spokesperson from the museum tells us they have been hosting Friday potluck dinners during the duration of voting to introduce people to the museum;
check their Facebook
for more information.
The full list of finalists are below:
• A Host of People: a theater group celebrating the do-it-yourself movement in both food and the arts by creating a site-specific piece to be performed in community gardens around the city; (Text Detroit1 to 22333)

• Dabls MBAD African Bead Museum: a center for African culture that wants to renovate its facilities and create more exhibition and programming space; (Text Detroit2 to 22333)

• ARTLAB J: a troupe strengthening Detroit's dance community by presenting Detroit Dance City Festival, a three-day celebration highlighting both local and national artists; (Text Detroit3 to 22333)

• Ballet Folklorico Moyocoyani Izel: a dance group that wants to bring the traditional dances of Mexico's La Huasteca region to Detroit by teaching the choreography locally; (Text Detroit4 to 22333)

• Detroit Drumline Academy: a group of former drummers from Detroit-area schools that wants to prepare the next generation of percussionists by teaching and mentoring middle and high school students. (Text Detroit5 to 22333)
You can learn more at
knightarts.org/peopleschoice
. The winner will be announced on Oct. 6.