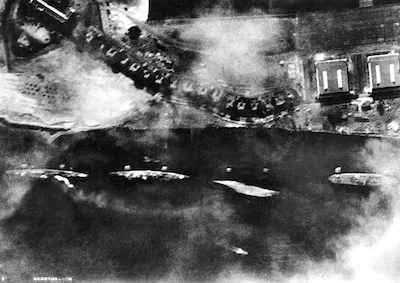 For people of a certain generation, the moment you heard the news of Pearl Harbor was like the moment baby boomers heard Kennedy was shot, or, for a later generation, where you were when you found out about 9/11 (or Janet Jackson's boob, or Miley Cyrus twerking, all culturally important events too).
It's hard to imagine today just what a fuss a surprise attack by the Empire of Japan on Hawaii caused. My dad remembered, although he was confused at the time. He had just watched a double-feature at the Calvin Theatre on Michigan Avenue in Dearborn and came out to see traffic stopped, and many an angry person talking excitedly in the street. He had no idea what it was about, although he soon would.
What might those people on the street have said to each other? For the answer, we turn to the magic of the Internet, where we've found
a number of (admittedly solemn) recorded statements
from residents of Detroit (and even Nicholas S. Gromkovski of Hamtramck!) supporting the president in the wake of the Pearl Harbor attack. (Here's the handy
link to the MP3 files
.) It's scratchy and a little stilted, but it offers a charming look back. We don't often get to hear the voices of Detroiters of that era, and, on a lazy Sunday morning almost three-quarters of a century later, it's a good way to pass a few minutes.