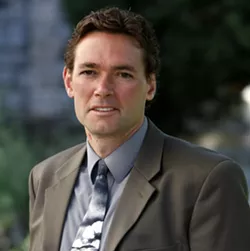 A researcher who helped uncover the water contamination crisis in Flint said on Thursday that new findings indicate the city is close to the "beginning of the end" of its now two-year health debacle.
In
a press conference Thursday
to unveil the new findings, Virginia Tech professor Marc Edwards said, though the new results are encouraging, residents should still use bottled and filtered water.
"Flint water now looks like it's entering a range that is considered normal for U.S. cities," Edwards said,
according to The Detroit News
. While the findings showed continued improvement, Edwards urged residents to continue the use of bottled and filtered water.
Last month, the researchers said, the average level of lead found in Flint homes was 13.9 parts per billion; the federal action level for lead is 15 parts per billion. Still, the researchers noted in a PowerPoint presentation that the sampling pool wasn't approved under the federal Lead & Copper rule.
"It is very possible that the City of Flint is passing the Lead and Copper Rule standard, but we can't say that,"
Edwards said
. "We can say that the trend is very good."
Flint's mayor, Karen Weaver, called the findings "encouraging," but also said it's important for residents to heed Edwards' advice and continue to use filters and bottled water.
"It remains unclear when it will be safe for the people of Flint to turn on their faucets and drink water straight from the tap," Weaver said in a statement Tuesday. "Professor Edwards said today that he would like to see not only the lead pipes in Flint replaced, but the fixtures as well. Replacing the city's damaged and antiquated infrastructure is essential and we need the funds to do it. We know the residents of Flint want nothing less than new pipes and our work to make that happen is underway."
Weaver said efforts to replace Flint's lead pipes remain in motion, and added that the city's state-appointed Receivership Transition Advisory approved contracts for three companies to replace more lead pipes across the city.
"We hope to have crews out on the job within the next couple of weeks," she said.