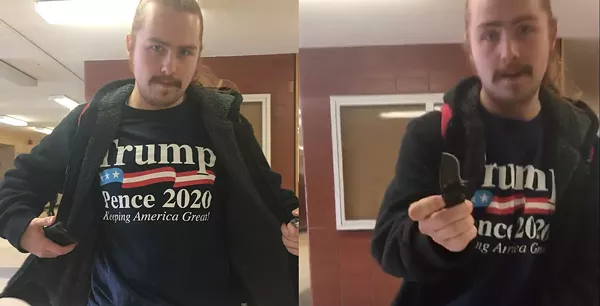 Wayne State University officials say a student was suspended after brandishing a knife and making threatening comments about immigrants on Tuesday.
According to a witness, the student approached a table where members of the activist group By Any Means Necessary, or BAMN, were passing out flyers about immigrant rights. A video provided to
Metro Times
shows the man open his jacket to show off a "Trump 2020" shirt and pull out a switchblade. He then says, "I think we should deport or kill all illegals that don't belong in our country."
Things escalated from there. One student yelled back, "So you're a Nazi? Get the fuck out of here." Another student yelled, "You want to kill somebody? Kill yourself."
BAMN member Kate Stenvig says this is the third time the group has had an altercation with the student, though it's the first time things escalated this far. Previously, Stenvig says he shouted "Make America great again!" while walking past their table.
"This is the kind of thing that has been emboldened all over by Trump's presidency," Stenvig says. "These kinds of racist incidents and these alt-right supporters have been emboldened by Trump and he needs to go. He needs to resign or be removed now and we have to work to keep these racist attacks from continuing to happen in our communities and on our campuses."
WSU president M. Roy Wilson issued the following statement:
Dear Wayne State community,

Last night we became aware of an incident in which a Wayne State student and a number of individuals staffing a table in State Hall engaged in a dispute. During a tense exchange, the student made some provocative remarks related to immigration and brandished a knife. This incident was shared via Facebook and other forms of social media. The individual in question has since been detained and is suspended from the university pending a full investigation.

At Wayne State, we strive to create a physically safe campus community. We are among the safest college campuses in Michigan and across the nation. As always, if you witness or become aware of incidents such as the one that occurred yesterday, we ask that you please call the Wayne State Police Department at 313-577-2222. In this instance, no one called the police.

We remain steadfast in our commitment to building an inclusive campus community where intolerance — particularly when accompanied by physical threats — is not tolerated. While we encourage respectful dialogue and sometimes passionate debate about differing views and perspectives, there is no place for violence or threats of violence at Wayne State.

Thank you to everyone who has written to express their concern about this incident. Together, we will continue to build a campus environment that is safe, welcoming and inclusive for everyone.

Sincerely,

M. Roy Wilson
President

You can watch the video below:
Video: Trump-shirt wearing student pulls a knife on Wayne State University campus, makes threats against immigrants pic.twitter.com/c8H7TQ24oU

— Detroit Metro Times (@metrotimes) February 14, 2018