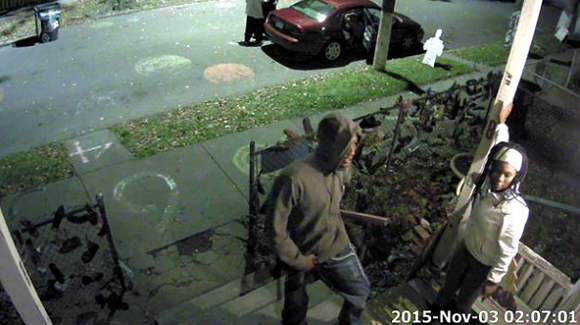 The Heidelberg Project is seeking assistance from the public in identifying suspects believed to be responsible for recent break-ins in the area.
According to a press release, the latest incident occurred after 2 a.m. on Tuesday, when three males and a female kicked in the front door of the Heidelberg Project's Number House (3632 Heidelberg St., Detroit). Surveillance cameras captured footage of the suspects, along with their getaway vehicle, a burgundy Ford Taurus.
The release says there have also been dozens of car break-ins reported in the last few months. Additionally, a Department of Alcohol, Tobacco and Firearms investigation into the string of arsons that have plagued the neighborhood in 2013 and 2014 is ongoing.
Watch the surveillance video below. Anyone with information is asked to contact the special tip line at 313-628-2900.
Read our 2014 profile on the Heidelberg Project's Tyree Guyton
here
.