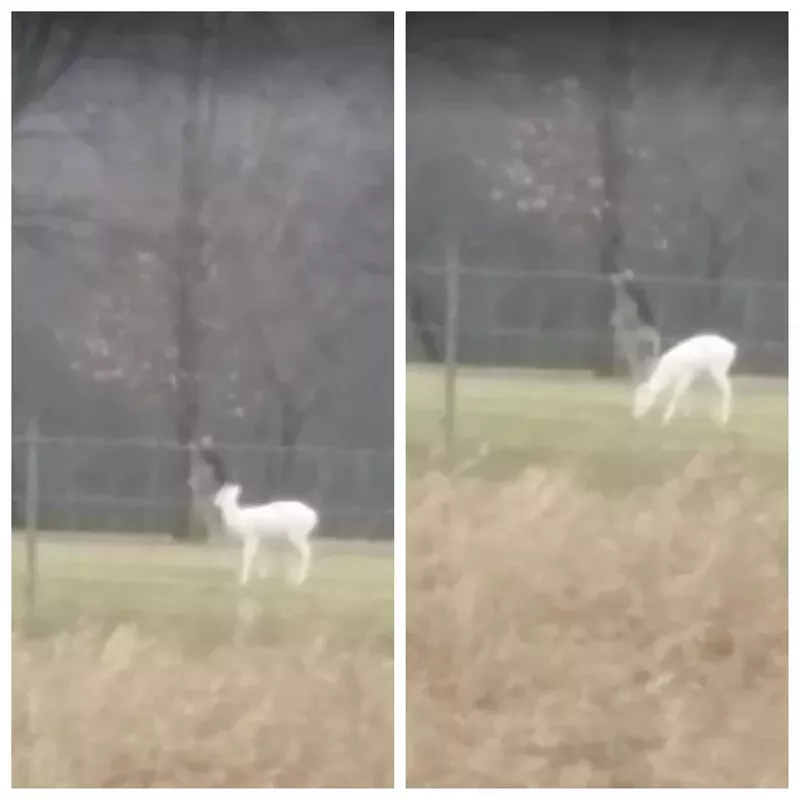 At first glance, you might think the above image is that of a large sheep or a tiny horse. In fact, what was spotted in a Michigan Metro Park last week is far more rare.

Brighton residents Mick McDonald and fiance Karen Illinik captured a drive-by video of an albino white-tailed deer grazing at Kensington Metro Park in Milford last Saturday. The deer appears to be a doe and was born in the park last May.

"I hope people see this and appreciate how beautiful this animal is," McDonald told the Detroit Free Press. "I hope nobody thinks to hunt it and just stick it on a wall."

The ban on hunting these majestic creatures was lifted in 2008.
An 11-year-old from Hartland, Mich., received backlash in 2012
when he shot a 12-point albino buck with a crossbow. Illinois, Iowa, and portions of Montana, Tennessee, and Wisconsin are among the states to have made it illegal to hunt deer with this striking genetic mutation. Although true albinism is identifiable by pink eyes and nose, Kensington's deer is said to have blue-eyes, making it a rare variation of the already rare albino mutation.
Watch the video below:


Stay on top of Detroit news and views. Sign up for our weekly issue newsletter delivered each Wednesday.