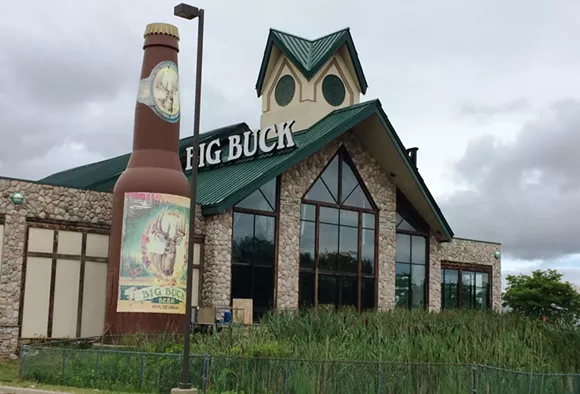 The big-ass brewery with the giant beer bottle in front of it may become home to a new fowling spot.
Big Buck Brewery, which has sat empty and sad in Auburn Hills near 1-75 for nearly a decade, is hopefully getting new life if all goes well. According to a
statement
released by Auburn Hills' Director of Community Development Steve Cohen, "an application has been submitted to the City of Auburn Hills to transform the dilapidated building... into a 'football-bowling' entertainment venue anticipated to be named the 'HUB.'"
Fowling,
the sport born out of a magical moment at the Indy 500
, isn't quite sweeping the nation, but its fanbase in Detroit is strong.
Fowling Warehouse
over on the border of Detroit and Hamtramck has ushered the sport into the area, and details are unclear as to whether they have anything to do with the new spot.
What we do know (according to Cohen): the interior will include 16 courts with spectating and eating areas, along with two bars, fast casual restaurant, and two private function rooms.
A final decision on the application is anticipated to be made by the City Council on Monday, September 26th.