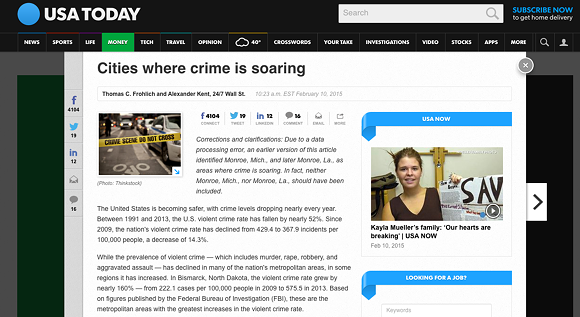 USA Today
offered the city of Monroe a big apology this week after a story the newspaper published declared it to be a community where
"crime is soaring."


The problem? It had the wrong Monroe.
From the Monroe News
:
The story that appeared on the USAToday website said Monroe, Michigan, saw violent crime grow by nearly 160 percent — from 222.1 cases per 100,000 people in 2009 to 575.5 in 2013. However, the 575.5 number was the rate for Monroe, Louisiana, not Monroe, Mich.

"It's wrong," said Douglas A. McIntyre, editor-in-chief and CEO of 24/7 Wall St., the organization that produced the piece. "We're extremely embarrassed. We can't apologize enough."
McIntyre had to keep on apologizing because, as an editor's note above the piece later notes, Monroe, Louisiana shouldn't even have been thrown into the mix. Taking top honors was Bismarck, North Dakota, which doesn't sound anything like Monroe, Michigan.