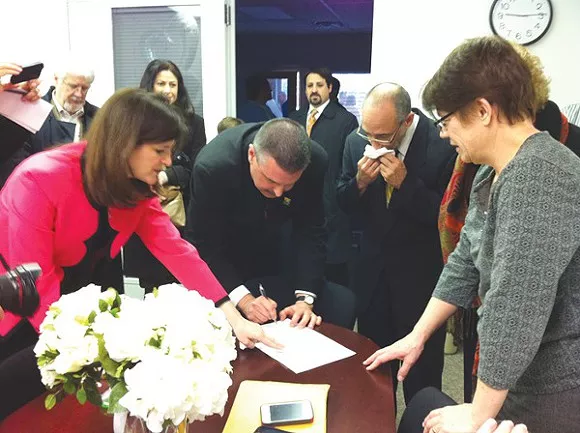 Same-sex marriage proponents were pleased at the U.S. Supreme Court's decision today to not review decisions from
lower courts in five states
that sought to ban marriage equality.
The high court's move allows clerks in Indiana, Oklahoma, Utah, Virginia, and Wisconsin to start issuing marriage licenses to same-sex couples, again — and shows the justices' desire to let state's make the call on such matters. Thirty states now allow same-sex marriages.
For Michigan, the court's decision doesn't have a direct impact. We're still awaiting a
ruling from the Sixth Circuit Court of Appeals
on our state's law prohibiting same-sex marriages. In August, a three-judge appellate panel of judges
heard arguments for, and against, bans
in Kentucky, Michigan, Ohio, and Tennessee. A ruling is expected soon.
Earlier this year, after U.S. District Judge Bernard Friedman shot down Michigan's ban,
nearly 300 same-sex couples were wed across the state
. Friedman's ruling soon after was stayed when the Sixth Circuit appellate court agreed to hear an appeal from Michigan Attorney General Bill Schuette, who
vehemently opposes same-sex marriage
. The American Civil Liberties Union of Michigan filed a lawsuit to have the state of Michigan recognize those marriages, but a decision has yet to be handed down.
Which leaves us considering one question: How much has Schuette's office spent arguing this case? Last check, in March, before arguments before the appellate panel, the
total bill ran up to $40,000
.