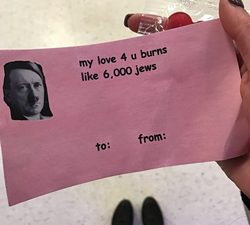 After an anti-Semitic Valentine Card unknowingly got distributed at a College Republicans at CMU Valentine's Day party, the university has issued a new statement on actions and next steps to address the issue.
In the
statement
, the university said that they met with the woman behind the card and she readily admitted her role.
It also turns out that the woman behind the card (presumably "XOXO, Courtney") was not a student at Central Michigan University in the first place.
A representative from the school told
MT
that "individuals who are not students can be part of student organizations. It's relatively rare, but it does happen." The statement also says that the woman has left Mount Pleasant, too.
Here is an excerpt from the school's statement:
"The grossly offensive action of one individual, a nonstudent, has deeply distressed our campus community and others across the nation," President George E. Ross said. "With heavy hearts and great embarrassment, we apologize. To those of Jewish descent, rest assured that we stand with you and vow to continue the effort to educate others."

Lasher said her staff talked with and determined leaders of the student organization, College Republicans at CMU, were unaware of the card. Damon Brown, director of student activities and involvement, said members of the student organization are shocked and remorseful.

Actions so far and next steps:

CMU Police have consulted with the county prosecutor, who said this matter is not a criminal act.

The Office of Student Activities and Involvement will engage with student organizations, continuing to educate them on why such behavior is unacceptable and reinforcing the need to uphold CMU values such as inclusivity and respect.

The Office of Institutional Diversity is planning related educational programming.

OCRIE will offer to have an educational session with the College Republicans and offer workshops, in partnership with Institutional Diversity staff, to other student organizations as well.