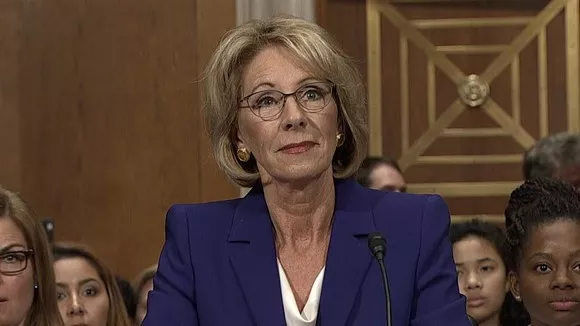 This week's
Metro Times
cover girl
— Michigan native, and U.S. Secretary of Education Betsy DeVos — visited Marjory Stoneman Douglas High School in Parkland, Fla. today, three weeks after a gunman killed 17 people during a Valentine's Day shooting. It was students' first full day back on campus since the massacre took place.
One student from each publication (tv prod./newspaper/yearbook) was able to see her and take pictures of her, no one followed her. We are part of a school publication and it's our job to report on a public figure visiting the school. https://t.co/zE48UAFZky

— carly (@car_nove) March 7, 2018
She did, however, reportedly pet a dog.
Betsy Devos came to my school, talked to three people, and pet a dog. This is incase the press tries to say something else later

— Alanna//#NEVERAGAIN (@AgCI3Cu2) March 7, 2018
According to the
Huffington Post
, DeVos answered few questions following the conference and gave vague answers to those she did field. Those raised were in regards to President Donald Trump's proposal to arm school teachers. DeVos said the possible program has been "mischaracterized" and said it would not be mandatory for all schools. She also told reporters she did not speak with students about the possibility of having armed teachers in the classroom.
DeVos has spoken in favor of keeping guns in schools before. At her circus of a confirmation hearing, she famously said she was interested in keeping firearms on campuses to protect students from "potential grizzlies."
You can read this week's cover story on DeVos
here
.