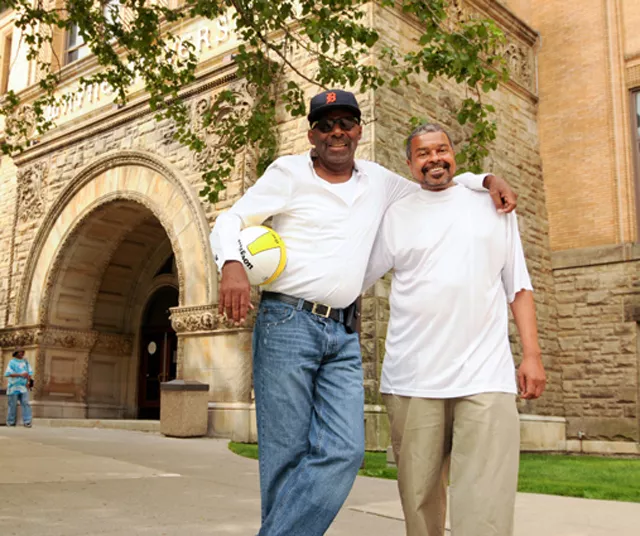 Reggie Carter is tall, and his lanky body cuts a commanding figure walking down the street. He was something of a ladies' man back in the day, and the black eye patch he wore back then gave him a swashbuckling air. That patch was no tool of seduction. Carter lost his right eye at 4 years old after a stick propelled from a piece of inner tube rubber destroyed it. Now, at 61 years, he has a prosthetic eye and usually wears sunglasses, though he can still turn the ladies' heads.
When I ran into him on Nine Mile Road in Ferndale a few months ago, he was wearing a white surgical mask. I knew Carter was on kidney dialysis, spending some four hours a day, three days a week, on the time-consuming but life-saving process that cleans patients' blood. When I saw the mask I wondered if he'd had some kind of downturn, although to tell the truth he seemed to have gained weight and lost that gaunt look.
Carter informed me that he'd recently had a kidney transplant and had to wear the mask to keep germs out of his recovering body. I was surprised to hear the kidney donor was mutual friend Art Bowman Jr., a juvenile and family practice attorney who is the son of former Wayne County Circuit Court Judge Arthur Bowman. We all met in the 1970s while hanging out around Wayne State University with a political, activist-minded crowd. As happens with most crowds over time, relationships change and folks drift away. But Carter and Bowman stayed close.
"I always knew we were the same kind of brother," laughs the jovial Bowman. "Reggie and I are both quirky people. I think we each appreciate the unique qualities of the other's personality."
Whatever may have made them alike is not apparent to others. Bowman, 57, has been married 31 years and has two grown children. He's an early-to-bed, early-to-rise kind of guy. On Sundays you find him at Greater Quinn AME Church. "I don't want to hang out with the boys," he says.
Carter seems a confirmed bachelor. He's a former dean of students at Loyola High School in Detroit, but he's also promoted jazz shows around town and is often seen walking the streets around Wayne State and the New Center area, where he resides.
Carter is diabetic and has hypertension. For years he ran five miles a day four or five days a week to stave off the effects of those diseases, but eschewed taking medication for his blood pressure. He's run a few Detroit Free Press marathons. When his work obligations became time-consuming, Carter stopped his running and walking regimen.
"I paid the price," he says. "I didn't compensate" by taking medication.
His health took a quick nosedive and he ended up on dialysis for more than three years. His name was on the transplant list, but most people who are on the list wait five or six years before a matching kidney becomes available from a cadaver. The only way to beat the list is to find a live donor. Bowman knew this and, unbeknownst to his wife Phyllis, decided to donate a kidney to his friend. When Bowman first approached him with the offer in fall 2010, Carter declined.
"I wasn't asking for a kidney," he says. "I was trying to make the best of the situation. I didn't feel comfortable asking."
After Bowman came back with the idea a few times, Carter relented and Bowman started a series of tests to see if he could be a donor.
"I knew that people routinely die when on that transplant list," says Bowman. "I told my friend we don't need no stinking list."
Because matches for transplants are difficult to come by, Bowman and Carter expected that they would go through the "match pair" process. In match pair's simplest terms, Bowman would donate a kidney to a third party that he matched, and that third party would help provide a donor who matched Carter. Bowman started into the testing phase, and in December found out that he and Carter were indeed the same kind of brother: They were a direct match. Carter could directly receive Bowman's kidney.
"The chance of a direct match was less than one in 10," says Bowman. "The pre-surgery testing is very involved, very impressive. They desperately want make sure that my health is not compromised. They did an excellent job at Henry Ford Health System."
Dr. Jason Denny, the Henry Ford surgeon who removed Bowman's kidney, says, "Our first obligation is to Bowman, to make sure his health is not compromised. ... People are a little bit scared when it comes to donation. You can live a perfectly normal life with one kidney. That's borne out by the data."
Once the testing indicated a match, there was one more hurdle to leap: Bowman's family.
"Phyllis was against it," says Bowman. "The thing that pissed her off the most was I didn't even bother to tell her about it until February or so when I'd been taking tests since October. My son was mildly against it; my daughter was close to neutral. Nobody was in favor."
But Art was adamant that he wanted to do it. A meeting with Denny and a hospital psychologist brought the family around, and the transplant was performed April 8. Everything went well and Bowman went home after three days. Carter was preparing to go home a day later when he got a call that his mother, who lived in California, had passed away. His only sibling, a brother, died a few years ago, so Carter found himself making arrangements for his mother as he recovered from surgery. The first six months after a transplant are critical because of the possibility of rejection as doctors adjust medication. Recipients must control their environments as much as possible, so travel was out of the question.
Carter recovered well and was able to travel to California in August to scatter his mother's ashes in the Pacific Ocean and take care of other obligations. Back home now, he's taking it easy and dedicating the next year to his health while taking a Spanish class at Wayne State. He's thinking about what to do with his "rebirth."
"It's very humbling to have someone donate a kidney to you," Carter says. "We were good friends and now we're like brothers."
He does report one new quirk since the transplant, a craving for cashews, something he'd never had before — but Bowman did.
"He has a part of me so I guess that might explain it," says Bowman, who has become a spokesman for the Minority Organ Tissue Transplant Education Program. MOTTEP focuses on encouraging healthier lifestyles, increasing the number of minority donors and recipients, and family discussions regarding organ and tissue transplants.
According to information on the MOTTEP website, more than 50 percent of the 83,000 Americans on the national transplant list are minorities, and 16 people die each day waiting for a transplant.
"You still have people in many communities, particularly Arab and Hispanic, who are not really sure about that process because of their experience with institutions," says Denny, one of about 35 African-American transplant surgeons in the United States. "People who get a transplant live longer than people who do not."
Here's to a longer life for Carter and Bowman. They were friends before, but have now taken brotherly love to a level most of us never achieve.
"I just wish that other people would take the 'love thy neighbor as thyself' instruction from the Bible as seriously as I do," Bowman says. "It is more than a notion by a long shot. If you love somebody that needs a kidney, and you're blessed with good health, you ought to consider it."
Amen!