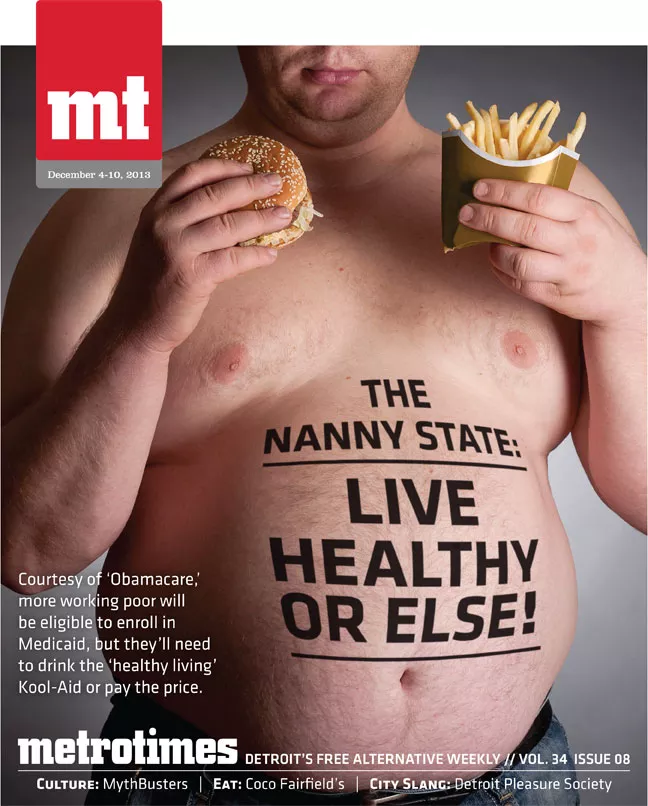 The estimated 134,000 folks in the Detroit metropolitan area who will be newly eligible for Medicaid should be prepared to shed extra pounds, throw away their smokes, get overdue vaccinations and quit boozing — or be prepared to pay for their debauchery.

While half the states in the nation have expanded their Medicaid programs to cover more low-income adults — a cornerstone of the Affordable Care Act — Michigan is among the few that has proposed tying copays and premiums to health habits. And it is among the few that has proposed requiring recipients to make monthly payments into health savings accounts. Iowa has a similar proposal in its Medicaid expansion plan and, like Michigan, is waiting for the go-ahead from the federal government.

These provisions of the new law are considered the most controversial — and they're being closely watched throughout the nation.

"We are setting precedent for [25] other states that haven't done a Medicaid expansion," says Don Hazaert, executive director of Michigan Consumers for Healthcare, one of four agencies that is contracting with the federal government to help consumers navigate health plans on the ACA health exchanges. "They may be looking at us as a benchmark."

To get a sense of how low income is defined by the state for eligibility in Healthy Michigan, consider that a childless, non-disabled, non-pregnant adult can earn up to $15,282 and a family of four can make up to $31,322.

To also get a sense of how dramatic the expansion is — and how many working people are struggling — consider that the current Medicaid eligibility level in Michigan is 35 percent of the Federal Poverty Level for childless adults and 64 percent of the federal poverty level for working parents. The Medicaid expansion raises the ceiling to 133 percent of the FPL.

The state projects that it will enroll almost a half-million newly eligible adults in the program, 40 percent of them between the ages of 19 and 24.

According to Michigan's Department of Community Health, nearly 46,000 Detroiters will qualify, along with another 88,000 adults in Macomb, Oakland and Wayne (excluding Detroit) counties.
Michigan's Medicaid waiver application is in the hands of the federal government, which will open it to public scrutiny before approving or rejecting it. Advocacy groups, health care institutions — or any Tom, Dick or Sherry, for that matter — are free to register an opinion on the waiver request. A decision could come as early as the end of the year.

House Bill 4714, which authorized the expansion of Medicaid, passed in September 2013 after a protracted battle between Gov. Rick Snyder and Republicans — hostile to any part of Obamacare. Michigan is one of four Republican-governed states that approved the Medicaid expansion, and to say we do so begrudgingly is being generous.

The federal government will cover 100 percent of expansion costs for the first three years of the program, called Healthy Michigan, then 95 percent and, by 2020, 90 percent. Michigan will fund the program with $1.7 billion in federal dollars in 2014.

Healthy Michigan is set to go into effect April 1, 2014 but enrollment opens on Jan. 1.
Michigan expects to save $1 billion over the next decade, much of it in mental health costs of parolees and probationers. Unreimbursed hospital care costs are expected to decrease when more people have health insurance coverage, according to the waiver proposal.

The cost-sharing portion of the Healthy Michigan proposal is the stickiest part. It requires enrollees who earn between 100 percent and 133 percent of the federal poverty level to pay 2 percent of their income into health savings accounts, called MI Health accounts. That amount can shoot up to 5 percent if they are obese, smoke, drink too much alcohol or otherwise have a substance abuse disorder — and aren't up to date on their vaccines. Or the amount can go down.

That means that a single, childless person on the lower end of the income scale — say $12,000 — must pay $20 per month or $240 per year into his or her MI Health Account. The payments won't need to be made during the first six months of participation in Healthy Michigan, and if certain health benchmarks are reached — like a recipient loses weight — the amount can be reduced to less than 2 percent. That's a detail that has yet to be fully fleshed out.

Now, 2 percent may seem a small burden to bear for someone making around $15,000, but add in copays — and for someone who takes several medications a month — that may result in another $15 per month.

"For people living month to month, it can be a huge challenge," says Jan Hudson, senior policy analyst with the Michigan League for Public Policy.

Under the law, copays may be waived if a person has a chronic disease that requires a lot of medication, such as diabetes. Still, copays, Hudson says, have been shown by research to be obstacles to getting health care.

"To the degree we can remove barriers, that's a good thing," she says. If the copay and cost-sharing incentives built into the law work and are not punitive, then it will be positive, Hudson says.

But giving up McNuggets and getting a tetanus shot may not suffice under this plan, either. After four
years on Medicaid, cost-sharing will increase to 7 percent — or the recipient can enroll in a subsidized, private insurance plan like tens of thousands of others who are currently uninsured or who've been bounced from their private plan. This 48-month "transition" plan is part of another waiver that needs to be approved by the feds by the end of 2015.

Sonya Schwartz, a health coverage advocate who is a research fellow at the Georgetown University Center for Children and Families, has some of the same misgivings as Hudson about Healthy Michigan; families, in particular, that aren't able to handle the cost-sharing may drop off the rolls.
"We could see people falling off if premiums are $20 per month, or be off the rolls if they don't meet health goals," she says. It makes her nervous that there is talk of placing a lien on tax refunds if a person can't or doesn't pay the premium, Schwartz says.

Yet, both Hudson and Schwartz agree that there is a lot of good in the Medicaid expansion proposal — its emphasis on prevention and on getting mental health and substance-abuse-disorder services to people who need them most. In fact, behavioral services offered in the Healthy Michigan program are more comprehensive than what is required of health plans on the state's insurance exchange.

"For low-income adults, it may be a good chance to get them help," says Schwartz.

Hazaert, of Michigan Consumers for Healthcare, says he's talked to thousands of Michiganders about health care coverage under the ACA. Most seem to feel the state is entitled to place requirements on people receiving benefits, "as long as the requirements aren't too onerous or overreaching.

"I think it's generally positive," he says. "It's like raising taxes on cigarettes. Research shows that raising taxes is effective in changing behavior. I think it will be, overall, beneficial to our society, especially since public tax dollars are being used here."

Angela Minicuci, spokesperson for the Michigan Department of Community Health, says the goal of the Healthy Michigan plan is to help people get healthier — and to the point where they can afford to buy their own health insurance.

"Countless studies show that if you have a healthier population, they are better employees and they contribute overall to our economic status," she says.