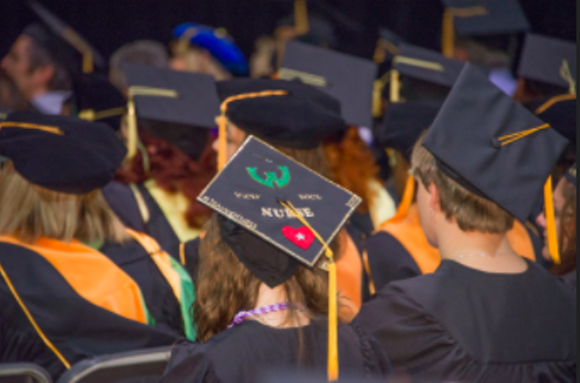 Giovanni Calandrino can be heard furiously typing at his desk as he takes my call on a Friday afternoon and asks me to hold for a moment so he can wrap up what he's doing and step away. The 27-year-old is a busy guy, and I'm lucky to get in touch with him; as a full-time switchboard operator for DTE Energy and part-time distributer for a local media publisher, Calandrino often clocks 53-hour work weeks to help pay his way through school at Wayne State University.
"I try to avoid taking out loans because I don't want to have a large amount of debt," Calandrino says. "It's stressful to think about how I'm going to pay it back when I only have six months before it starts carrying interest."
Calandrino is a Detroit native and Detroit Public Schools grad whose only help paying for college comes in the form of an income-based Pell grant he says covers only $500 per class. As a result, Calandrino regularly has to take whole semesters off to save up the money for his courses, which he says cost him about $1,700 a pop at Wayne State. The junior has five classes left to complete before he obtains his degree in management. It has taken him eight years to get to this point.
"It's embarrassing, but I just simply can't afford [the classes] all at once," Calandrino says.
It's an all-too-familiar struggle for college students in the Detroit area who can't easily afford school. But what many of those students don't know is that Gov. Rick Snyder's administration and the state legislature have for years essentially leveraged that quandary to make college even more expensive for low-income students, creating a vicious cycle that Wayne State officials say, if left unchecked, will widen the gap between the rich and the poor.
The affordability problem, which had been gradually building since the 1970s, worsened in 2011 when Michigan slashed funding for state colleges and universities by 15 percent and, the following year, joined a wave of states around the country in distributing a portion of its higher education funding based on school performance. According to the National Conference of State Legislatures, at least 32 states around the country tie anywhere from 1 percent to all of their higher ed funding to performance-based metrics. Michigan doles out half of the funding for its 15 colleges and universities based on performance, giving more money to schools with high six-year graduation rates and students who obtain degrees in "critical skills areas" like science, technology, engineering, math, and health.
It's "an effort to drive outcomes" that state budget office spokesman Kurt Weiss concedes creates winners and losers. That's bound to happen "any time you try to pick a formula that's fair and gets everyone to the table," he says.
Under the current framework, Wayne State is the biggest loser. In the six years since the performance model was put in place, the university has consistently received the lowest increases in state funding with the exception of this year. (After investing heavily to improve its graduation rate, the school climbed to second-to-last.)
Fewer state dollars result in budget cuts and higher tuition. Wayne State has shaved at least $70 million from its operating budget because of the cuts and has still had to hike prices for students by more than 25 percent since 2011 — from $287 to $360 per credit hour for incoming freshmen. Compare that to the school that has thrived most under the current model: Grand Valley State University, which has only had to hike prices 18 percent — from $405 per credit hour in 2011 to $480 this academic year.
The issue lies primarily in the state's unusual reliance on something called the "Carnegie Classifications" to compare a school's performance with its peers around the country. Wayne State is categorized as a high-level research institution and grouped with the country's top public universities in this ranking system, thus leaving the state to measure the urban university's graduation rates against the likes of the University of California-Berkeley.
Of course, Wayne State serves a much different set of students than schools of that caliber. Almost half are Pell Grant recipients like Calandrino and nearly 40 percent who apply for federal aid are in the first generation of their families to attend college. In many cases, these students cannot afford the traditional on-campus college experience that involves devoting four or five years almost exclusively to studying. Therefore, Wayne State officials argue the school should be compared specifically to urban research universities like Temple University in Philadelphia.
"Wayne State should be rewarded, not punished, for performing extensive research while also educating under-represented and at-risk students," Wayne State President M. Roy Wilson said as he testified before the House Appropriations Subcommittee on Higher Education last week.
Wilson has attempted to appeal to the Republican-led legislature every year since assuming his post in 2013, and this year, warned of bigger consequences should the state not change the funding model soon.
"Many universities, rather than take a risk, invest precious funding, or hurt their rankings, don't accept [students from lower socio-economic backgrounds]," Wilson told the committee comprised of four Republicans and two Democrats. "This hurts students, but it also hurts society. The social mobility made possible by higher education is the key to a thriving middle class ... If that mobility is offered to some, and not others, we create two societies with disparate incomes and vastly different opportunities."
In addition to hurting Wayne State by holding it to the same standard as top-tier institutions, the metrics also limit the amount of students that can count toward the school's graduation totals. They do not include students who, like Calandrino, have had to take at least one semester off, and they don't include people who began their studies at a community college. This is particularly harmful for Wayne State, because lower-income students tend to be more likely to have to temporarily stop study, and because transfer students make up about half of Wayne State's new undergraduate population each year. Many of them come from area community colleges that the university has established partnerships with to ensure their credits transfer.
But despite these issues, the state's funding formula has been left virtually unchanged with the exception of a Pell Grant metric that was added to reward schools like Wayne State that serve high percentages of low-income students. Wayne has also benefited from a provision that allows schools to secure funding simply for showing improvement in the various performance categories, though spokesman Matt Lockwood says the university had to invest $10 million to do this. The money was used to hire dozens of advisers to help ensure students continue with their studies and graduate within the six-year span the state rewards.
It's unclear what the school had to cut to afford to make this investment, but over the past decade it has trimmed tens of millions of dollars from its budget by eliminating 50 faculty positions and instating a purchasing and hiring freeze, among other things.
This year, there in an uptick in funding for Wayne State in Snyder's proposed budget because of the graduation rate improvement, and also because of a $35 million overall increase in higher ed funding. Though Snyder says the additional money "will fully restore higher education funding to previous levels," Wayne State still lags more than $14 million behind the 2011 funding level that predated the across-the-board cut — the most of any Michigan college or university.
It's not clear how the school will get back on track, but for now, students seem to be willing to pay the higher tuition. Wayne just snapped a seven-year decline in enrollment and Calandrino, for his part, is vowing to graduate.
"If I wanna get anywhere in life I need my degree," he says. "There might be some people who can get an $80,000-a-year job without going to college, but those people are rare and I don't like putting things on chance and luck."
Calandrino says he expects to graduate by the end of next year, but he's not counting on the Pell Grant money to help him. In addition to Snyder's administration making the cost of college increasingly difficult for Calandrino to bear, President Donald Trump's budget includes a $4 billion cut to the only program that helps him pay for school.