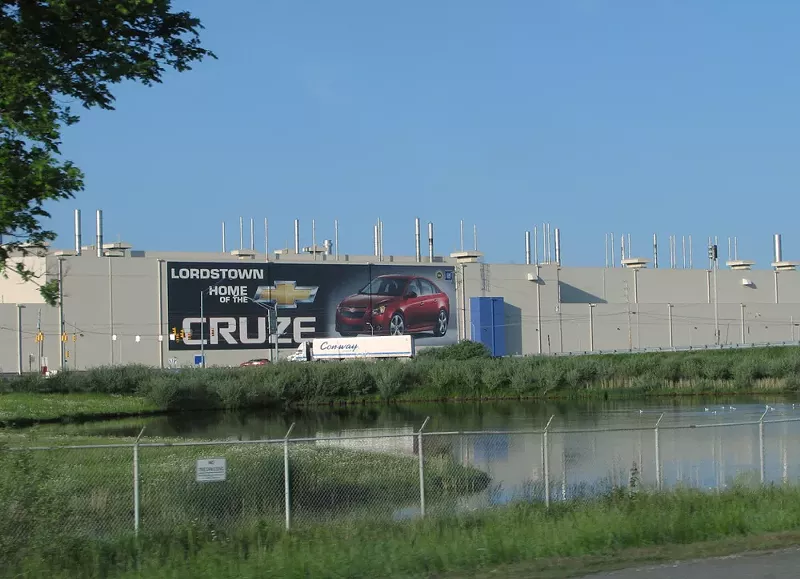 President Donald Trump took to Twitter on Wednesday to cheer news that GM could sell its Lordstown, Ohio, plant to electric truck company Workhorse. Trump also said GM has plans to invest $700 million in Ohio, creating 450 jobs.
"GREAT NEWS FOR OHIO!" Trump tweeted, adding, "THE USA IS BOOMING!"
Hold your horses, Donnie. Some perspective: The Lordstown plant was one of five North American plants GM announced would be "unallocated" late last year as part of a massive move to slash more than 14,000 employees across its workforce. Lordstown alone employed some 4,500 workers.
Plus, a study by the Center for Economic Development at Cleveland State University estimated that the cuts would cause the loss of nearly 8,000 jobs and more than $8 billion in economic activity in the overall regional economy. A recent
New York Times
photo essay
showed how the plant was the lifeblood of the small Ohio town.
It's unlikely that Workhorse will replace all of those jobs. As a recent
Washington Post
headline put it,
"Trump cheers GM's plans to sell large Ohio factory to a company with fewer than 100 employees."
So while the Workhorse and GM jobs announcement is certainly better than nothing, it's a far cry from "booming."
The UAW isn't as giddy about the news as Trump.
"The UAW's position is unequivocal: General Motors should assign a product to the Lordstown facility and continue operating it," UAW Vice President Terry Dittes said in a statement.
....in 3 separate locations, creating another 450 jobs. I have been working nicely with GM to get this done. Thank you to Mary B, your GREAT Governor, and Senator Rob Portman. With all the car companies coming back, and much more, THE USA IS BOOMING!

— Donald J. Trump (@realDonaldTrump) May 8, 2019
The same day as Trump's announcement, Unifor, Canada's autoworkers union, announced it
worked out a deal
with GM to save some 300 of the 2,600 jobs at its Ontario plant.
MT
the plant's lone remaining shift has been extended to January 2020, and that contract negotiations are expected in the fall. That plant employs 700 hourly workers and 100 salary workers.
Stay on top of Detroit news and views. Sign up for our weekly issue newsletter delivered each Wednesday.