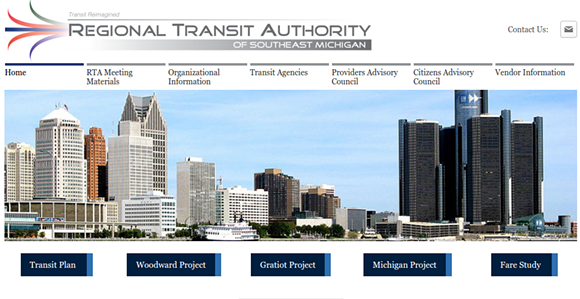 In the past, we've talked about
metro Detroit's struggles to implement an efficient regional public transit system
. In recent years, however, many transit boosters have pointed to the creation of the Southeastern Regional Transit Authority (RTA) as a sign of better things to come.
Except, since Gov. Rick Snyder signed into law the bill that created the RTA, the authority has been a bare-bones operation: Its first
pick for CEO left before signing a contract
due to a lack of funds, forcing it to head back to the drawing table, a move some
members of the RTA's board didn't enjoy
. This forced the authority to punt until 2016 to ask voters whether they would approve a tax to support additional transit operation.
The slow start-up process was also evident by the fact it didn't have its own website. To find out any information on the Internet about the RTA, or about any of its planned meetings, you'd have to wend your way through the weeds of
the Southeastern Michigan Council of Governments (SEMCOG) website
. SEMCOG, a regional planning agency, has aided the RTA in day-to-day operations.
But, while Lansing continues to debate whether it will
allow our roads to begin swallowing motorists en masse next summer
and
possibly slash public transit funding
, there was a small piece of news this week that made transit advocates cheer ever so cautiously: The RTA, finally,
has a website
.
The website includes all the obvious nuts and bolts:
Meeting materials
(including agendas and minutes), the authority's bylaws, and
a budget
.
The board has a healthy balance sheet, at least for the next two years. Between federal and state revenue, and local contributions, the authority projects to spend $1.66 million-$1.67 million annually until 2017, with about $1.86 million in revenue coming in per year.
The budget doesn't identify any revenue from the state and federal government in 2017, leaving an expected hole of $1.04 million that year.
In November 2016, though, the RTA is expected to ask voters to approve a tax to support future transit operations. Michael Ford, the authority's CEO
who signed a three-year contract this year
, said he can hire five full-time staffers, two-part time interns, and approve several contracts for the RTA in 2015 with available funds.
Transit officials have previously said the RTA will pursue a number of avenues to expand public transit, including a fare card for all systems in the four-county region (Wayne, Oakland, Macomb, Washtenaw), and launch new options, like
a proposed Ann Arbor-to-Detroit commuter rail system
, or a
new bus line along Woodward
— both of which have been discussed for years, the latter
since at least 2001
.
The RTA board's next meeting will take place in January. You can visit its website at
rtamichigan.org
.