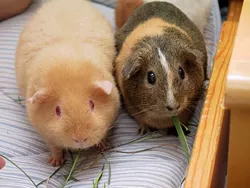 Two Grosse Ile High School students were arraigned Monday after the Wayne County prosecutor accused them of torturing and killing a guinea pig before a lacrosse game.
Tanner Coolsaet, 18, and Michael Roth, 17, were arraigned Monday morning in 33rd District Court on multiple felony counts of killing or torturing animals and conspiracy to kill or torture animals. Both face a maximum of four years in prison, the prosecutor's office said.
The charges stem from an April 30 incident before the Grosse Ile High School varsity lacrosse team met for a game, according to a statement from the prosecutor's office. Coolsaet and Roth arrived at an unspecified location with a box in tow that contained a live guinea pig. (In May, the Grosse Ile police chief said the alleged incident took place off school property.)
What Wayne County Prosecutor Kym Worthy alleges occurred next goes beyond a "pre-game antic."
"It is alleged that Coolsaet had a knife and slit the guinea pig's throat," Worthy's office said in a statement. "It is also alleged that Roth grabbed the guinea pig and struck it with a small bat. The animal died shortly thereafter."
A $5,000 personal bond was set for both Coolsaet and Roth on Monday, and neither can consume alcohol or controlled substances, nor purchase or acquire an animal or pet. They now have a curfew from 11:30 p.m.-6 a.m. each night.
The pair is due back in court on July 26 for a probable cause hearing.
"The alleged facts in this case illustrate much more than a youthful prank or a pre-game antic," Worthy said in a statement. "We must take these cases seriously."
Messages were left for Coolsaet and Roth's listed attorneys seeking comment.