Reports of a threat directed at a Dearborn mosque on Twitter began to emerge late Monday night, prompting authorities to launch an investigation.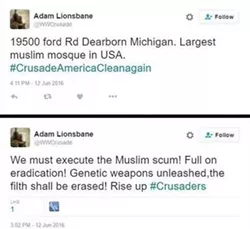 Osama Siblani, publisher of the
Arab American News
, was alerted to the threat — which listed the address for the Islamic Center of America — on Sunday after the Orlando massacre, and he immediately contacted the Dearborn police chief, the FBI, the US.. Attorney, and Wayne County prosecutor, according to
Fox 2
.
"At the same time that we're mourning like the rest of Americans, we're very concerned about our own safety and our people's safety," Siblani said.
Law enforcement is taking the threat seriously, and while the Twitter account (which was @WWCrusade because of course it was) has been deleted, authorities are continuing to try and track down the person who posted the threatening message.
Concerned Twitter users also began calling attention to the tweet by mentioning the FBI's Twitter account, and a number of users responded with messages of love, unity, and a touch of sass. Well played, Twitter, well played.
@wwcrusade pssst... just wanted to let you know that I love you for the sake of God #oneplanet #onehuman #oneGod

— A. Waleed Rashid (@waleedrashid) June 14, 2016
@wwcrusade. Fyi. We've never had a serious incident involving Muslims in the area Because we've learned to coexist peacefully #orlandounited

— Kevin Wanless (@slogodetroit) June 13, 2016
@WWCrusade 1. to avoid the mosque and to be be on the look out for sadists and bigots like you.
2. Is that all you got?

— مليكا يسرة (@yasirah_alzahra) June 13, 2016
@WWCrusade @MouhajerBilly @SirenaDirawi @FBI @DearbornPolice Adam how bout I give you my address and u can start with this American Muslim?

— Moe Shama (@MoeShama) June 13, 2016
$10 says you're 13 years old and just found out what the early crusades were @WWCrusade 🤔 show us your noodle arms 🤔

— Abdu Almaisari (@abdulalmai) June 13, 2016