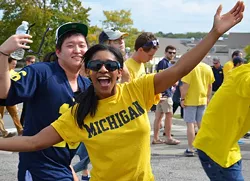 In an effort to increase access amid soaring tuition costs, the University of Michigan announced a new program that will make tuition free for in-state students who come from families that make $65,000 or less a year.
Dubbed the
Go Blue Guarantee
, the program will cover the full cost of tuition for up to four years of full-time undergraduate study at the university's Ann Arbor campus — a value of about $60,000.
The program was announced by U-M on Thursday and goes into effect in January 2018. Additionally, the university approved a 2.9 percent increase for in-state undergraduates as well as a 4.5 percent increase for out-of-state students.
"What we're concerned about is that there are lots of talented kids, and we know they're out there, who are a bit afraid of taking that risk of applying to school and then not thinking they'll be able to afford it," U-M president Mark Schlissel says in
a statement
. "So the notion is to tell them up front if you're talented and willing to work hard, regardless of what your family's income is, we will find a way to help you afford a spectacular college education."
According to
U-M CIRP data
, in 2016 15.2 percent of incoming freshmen came from families that made $60,000 or less, while 24.5 percent came from families that made $250,000 0r more.
More information on the program is available at
goblueguarantee.umich.edu
.