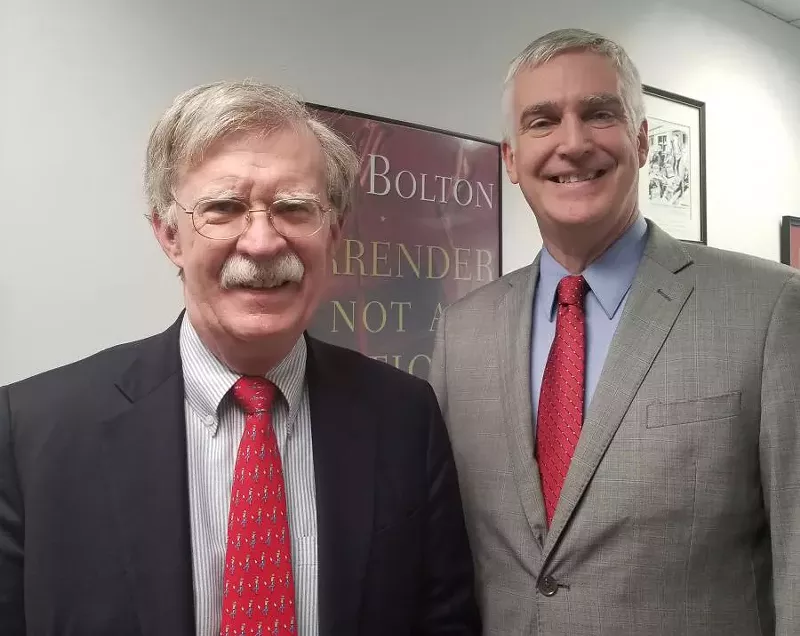 Meet Fred Fleitz, Trump's new deputy assistant and the chief of staff for John Bolton's National Security Council. He's old, he's white, he used to lead an alleged hate group, and he wants Michigan Muslims to get with his program.
"There are some communities in the United States that have not assimilated. I'm not concerned about Amish or Jewish communities, but I will tell you that there are enclaves of Muslim communities in Michigan and Minnesota that concern me,"
Fleitz told Breitbart "News" Daily
, a program on SiriusXM, in 2017.
"The problem with these Muslim communities is that it is making them susceptible to this radical worldview that wants to destroy modern society, create a global caliphate, and impose sharia law on everyone on Earth."
At the time, Fleitz was Senior Vice President for Policy and Programs at the
Center for Security Policy
, a far-right think tank that the Southern Poverty Law Center has identified as an anti-Muslim hate group. Now, this wing-nut is tasked with advising the president on national security and foreign policies.
The Committee on American-Islamic Relations and other advocacy groups have decried the appointment.
"An individual who held a leadership position in a notorious hate group should not be placed in a policy-making post in the White House," CAIR Government Affairs Director Robert McCaw said in a statement last week. "We urge the Trump administration to drop Mr. Fleitz and to remove all other staffers who espouse bigoted views or back discriminatory and unconstitutional policies."
The
Free Press
rounded up further reaction from the Islamic community. Check their report out
here
.