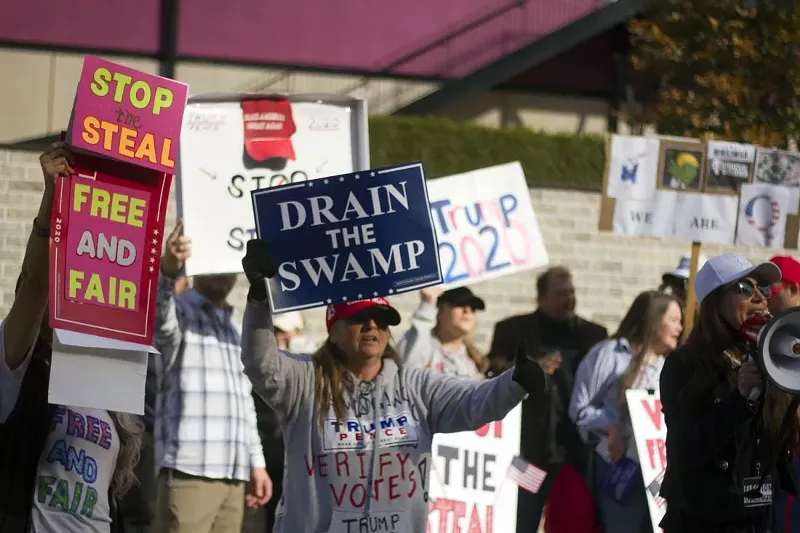 Sixteen Michigan Republicans who posed as presidential electors and falsely declared that Donald Trump won the 2020 election are in legal trouble again.
Three of the state's presidential electors who cast ballots for Joe Biden filed a lawsuit against the Republicans and are asking a judge to declare that the "fake elector scheme was illegal under Michigan law."
The lawsuit was filed in Kent County Circuit Court by Blake Mazurek of Kent County, Robin Smith of Ingham County, and Timothy Smith of Ottawa County.
"Plaintiffs suffered humiliation, mental anguish and stress as a result of being cast in the false light created by defendants' election fraud and lies," the lawsuit states.
The lawsuit further alleges that the GOP "scheme attempted to subvert the sacred right of qualified voters in Michigan, enshrined in the state Constitution, to have their votes counted."
The fake electors are accused of using fraudulent documents to subvert the outcome of the election.
State and federal prosecutors are investigating the Republican scheme.
The Justice Department is investigating Republicans
who tried to pull off the scheme in Michigan and six other battleground states. Republicans also produced false certificates in Georgia, Arizona, Pennsylvania, Wisconsin, Nevada, and New Mexico.
Michigan Attorney General Dana Nessel referred the case to the Justice Department and said in January 2022 that there's
"absolutely" enough evidence to warrant charges against the Republicans
who signed the false certificate.
On Friday,
Nessel announced that she has reopened the criminal investigation
because the federal probe has so far produced no charges.
Michigan GOP Co-Chair Meshawn Maddock, who was one of the fake electors, told a crowd at a conservative gathering in January 2022 that
Trump's campaign directed the party to organize the slate to declare him the winner
.
Mazurek, one of the plaintiffs in the lawsuit, said the electors undermined confidence in the election system and should be held accountable.
"Our hope is to remedy, as requested in our complaint, the damage caused by the spurious electors, deter them from engaging in election fraud again, and to send a message to any would-be future usurper to elected office that our nation is stronger than any individual or warped understanding of its principles," Mazurek tweeted Thursday. "We look forward to presenting our case and look forward to justice to be served."
Today, I along with two other 2020 Michigan Electors for President Joseph Biden and Vice President Kamala Harris filed a civil lawsuit in Kent County 17th Circuit Court against the 16 spurious electors for election fraud. 1/

— Blake Mazurek (@hops68) January 12, 2023
Coming soon: Metro Times Daily newsletter. We'll send you a handful of interesting Detroit stories every morning. Subscribe now to not miss a thing.

Follow us: Google News | NewsBreak | Reddit | Instagram | Facebook | Twitter