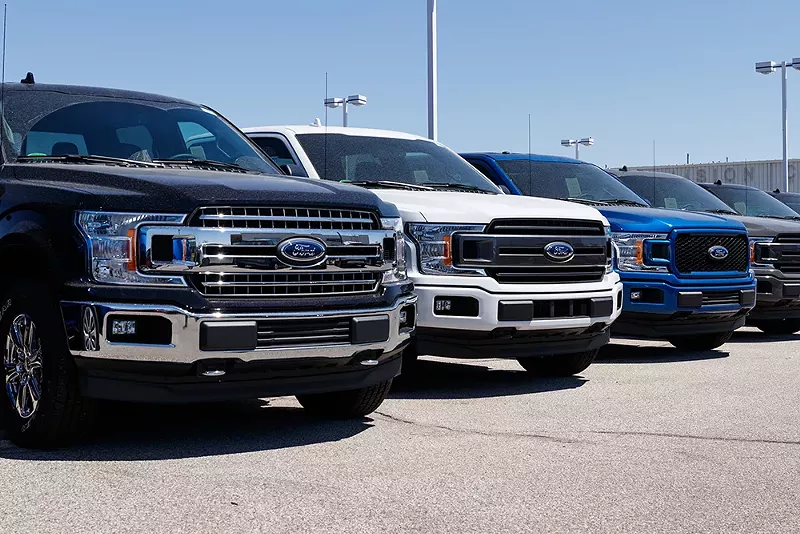 President Donald Trump thinks tariffs are the greatest. In fact, he tweeted as much this morning.
Tariffs are the greatest! Either a country which has treated the United States unfairly on Trade negotiates a fair deal, or it gets hit with Tariffs. It's as simple as that - and everybody's talking! Remember, we are the "piggy bank" that's being robbed. All will be Great!

— Donald J. Trump (@realDonaldTrump) July 24, 2018
The tweet follows threats from Trump to slap a 25 percent tariff on imported cars and auto parts, based on his premise that the imports are a "threat to national security." Trump's Commerce Department is currently investigating his claims; if the department agrees with Trump, it could enable the president to impose tariffs without Congressional approval.
But what does the auto industry think of Trump's tariffs? So far, the industry, as well as both Democrat and Republican lawmakers, have responded with a resounding "hell no."
Industry officials argue the tariffs would add thousands of dollars to the cost of a new car — at a time when the U.S. vehicle market has already cooled off following a pre-Trump period of growth. A
report
by the Ann Arbor-based Center for Automotive Research found that car prices could increase by $980 to $4,400, which would result in even more consequences:
"Higher new car prices will drive some consumers into the used vehicle market where prices will also be higher due to heightened demand and constricted supply — producers cannot make more used vehicles," the report stated. "Higher automotive parts prices are also likely to drive up the price of vehicle maintenance and repair, so even holding on to an existing vehicle will become more expensive. Manufacturers that import vehicles to the U.S. market may choose to no longer offer specific models — which is especially likely for small cars that are offered at lower price points to consumers who cannot afford increased vehicle prices due to tariffs."
Ahead of a public hearing on the proposed tariffs last week, a group of seven trade groups representing automakers, including Detroit's Big Three, united in opposition to the tariffs in
an open letter to Trump
. "Raising tariffs on autos and auto parts would be a massive tax on consumers who buy or service their vehicles — whether imported or domestically produced," they wrote. "These higher costs will inevitably lead to declining sales and the loss of American jobs, as well as increasing vehicle service and repair costs that may result in consumers delaying critical vehicle maintenance."
The CAR report also noted that tariffs would be harmful because of the deeply integrated nature of the global auto industry — even vehicles produced in the U.S. rely on imported parts, and U.S.-made parts are exported for assembly for vehicles built in other countries.
Last week, a group of lawmakers led by Rep. Jackie Walorski, an Indiana Republican, led a "drive-in" rally in Washington in opposition to the tariffs. Walorski and a bipartisan group of 149 lawmakers also sent
a letter
to Trump decrying the tariffs.
"We do not believe that imports of automobiles and automotive parts pose a national security threat," they wrote. "Rather, we believe the imposition of trade restrictions on these products could undermine our economic security."
At the hearing, Bernard Mattes, president of the German Association of the Automotive Industry,
also lambasted the tariffs
:
"Let me be very clear: Companies in our industry are so deeply intertwined that our fate is a common fate. Manufacturers heavily rely on open markets, due to our integrated and interdependent supply chains. We can either grow together — or fall together," Mattes said.

Mattes said additional tariffs will cut deeply into the tightly knit net between our companies. They would threaten our ability to export successfully out of the U.S. and call future investment into question. Tariffs on U.S. products will not only harm exports, but undermine competitiveness and strengthen other production locations with severe negative effects on investment and employment in the U.S.

"This scenario terrifies me — and things can be made worse by countermeasures which other countries could take. Such a scenario, rather than free trade between partners, is a risk to national security. U.S. national security relies on its economic performance," Mattes said.
Following the hearing,
Jalopnik
did
a roundup
of some of the best public comments. This one stuck out:
This is one of the most ridiculous things I've ever heard. "Import" cars are made in the United States. Every car has "imported" parts. If you'd like to crash the global economy, this would be a fantastic way to do it. Stop this protectionist idiocy at once! Perhaps try having an actual adult economist make trade policy instead of a petulant child.
Stay on top of Detroit news and views. Sign up for our weekly issue newsletter delivered each Wednesday.