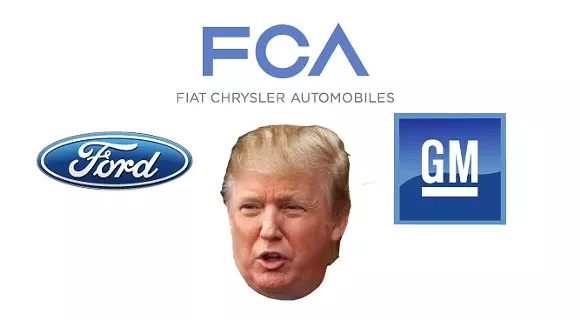 Previously, noted cyberbully and President of the United States Donald Trump has bossed the Detroit's Big Three automakers around on Twitter, demanding they bring manufacturing back to the U.S. and taking credit for recent news of U.S. investments, even though the deals
had been in the works long before
he took office.
But on Tuesday, Trump met face-to-face with executives from Big Three to discuss ways they can strengthen U.S. manufacturing.
Trump announced his intentions of "bringing manufacturing back to the United States big league" during a White House breakfast meeting with General Motors' Mary Barra, Ford's Mark Fields, and Fiat-Chrysler's Sergio Marchionne, according to
CNN Money
.
Instead of discussing a Mexican border tax,
as Trump has tweeted before
, he instead promised to encourage manufacturing by reforming the Environmental Protection Agency:
"It's absolutely crazy," Trump told the group at the White House. "I am to a large extent an environmentalist. I believe in it. But it's out of control. We're going to make a very short process. Generally speaking we're going to give you your permits. We're going to be very friendly."
Aside from Trump's intentions to reform the EPA, the executives were reportedly requested to submit to the President within the next 30 days a "series of actions" that will boost U.S. manufacturing.
Fields,
who said he re-read Trump's The Art of the Deal
over the holidays in an attempt to better understand the psyche of the President, described a separate Monday optimistically,
according to the Washington Post
:
"I come out with a lot of confidence that the president is very, very serious about making sure that the United States economy is going to be strong and have policies on tax, regulatory or trade to drive that," Fields told reporters after Monday's meeting. "That encourages all of us as CEOs as we make decisions going forward. It was a very, very positive meeting."
Notably absent from the meeting were representatives from foreign automakers like Toyota, Nissan, and Hyundai, which have plants in both the U.S. and Mexico.