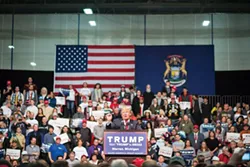 Remember how
President Donald Trump proposed to cut EPA funding
that goes toward Great Lakes pollution cleanup by 97 percent as part of his proposed 2018 budget? Cuts to that program could be coming even sooner.
To make a down payment for his Mexican border wall,
Trump is calling
for $18 billion in immediate budget cuts to domestic programs, including $50 million from the Great Lakes Restoration Initiative cleanup program. The proposal was sent to Capitol Hill this week.
Naturally, the move is unpopular here in The Great Lakes State. "After the president zeroed out Great Lakes funding in next year's budget, it adds insult to injury that his administration is requesting close to a $50 million cut to the Great Lakes Restoration Initiative in this year's budget too," Sen. Debbie Stabenow says in a statement.
As has been pointed out, making cuts to the Great Lakes are
not a very nice way
to say "thanks" to the states that gave Trump the election.