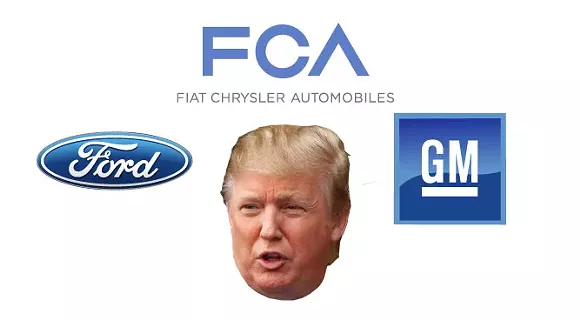 Throughout the 2016 presidential campaign and beyond, President Donald Trump has accused Democrats and the left of paying supporters to attend events.
It would appear the president could be accused of essentially doing just that.
The
Detroit Free Press
reports the Big Three bused workers from its Michigan plants to Trump's Ypsilanti rally, held at the American Center for Mobility at Willow Run. Following a request from the Trump administration, the automakers offered to feed and transport employees to attend the event. Fiat Chrysler and General Motors even covered employee pay so they could leave their shifts.
A Fiat Chrysler spokeswoman told the
Free Press
that "the White House wanted to make sure it had a cross-section of employees — both salaried and hourly — to celebrate the auto industry."
UAW Local 372 president Gabe Solano of Trenton, whose union called for workers to boycott the rally, told the
Free Press
the move appeared to be unprecedented:
"I have been at Chrysler for 23 years, and I have never seen this kind of approach. We have never seen them go out of their way to pay people to go to a rally," said Solano, who represents UAW members who make engines for Fiat Chrysler. "I find it amusing that Trump's camp always likes to say Democrats are paying people to attend rallies. It's kind of ironic now that companies are paying people to attend Trump rallies."
It is likely the Big Three feel beholden to Trump,
who has repeatedly bullied the auto companies on Twitter
for outsourcing manufacturing to Mexico. In January,
executives from the Big Three met with Trump
at the White House, where Trump promised he would encourage manufacturing by reforming the Environmental Protection Agency. He also requested the executives to submit plans to boost U.S. manufacturing within 30 days.
At the Ypsilanti rally, Trump
announced a potential rollback
on fuel efficiency standards.