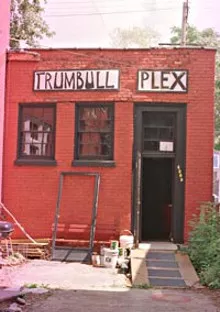 This story has been updated with comments from real estate developer Alex Pereira and Mayor Mike Duggan's office.

An email landed in our inbox this morning from Trumbullplex, a Cass Corridor anarchist collective, asking for community support as it pushes to purchase two neighboring lots from the city's Planning and Development Department, which takes applications for land purchase on a rolling basis.

As the email explains (see below), the bid is a bit more complicated than a sudden desire for more land. Since 1993, those residing in and around Trumbullplex have been tending to the vacant land, turning it into a community gathering space and garden. Last week, however, they learned that Alex Pereira, a real estate developer known for putting goofy wooden sculptures (the Lorax, Alice and the Queen of Hearts, etc.) in front of his properties and decorating them in themes related to children's books and movies, has put in a bid with the city to purchase the lots, and as the Trumbullplex letter states, turn them into a parking lot.

Pereira denies Trumbullplex's allegations that he plans to use the space for a parking lot. Rather, Pereira tells Metro Times, he plans to use the space for mixed-use development — a retail space downstairs with residential spaces upstairs and a green space in the back — to address what he perceives to be a neighborhood business and housing shortage.

"Trumbullplex's claim that [the lots are] a community gathering space — I am not saying they can't continue to do that," says Pereira, who moved into the Woodbridge neighborhood a year ago and has been investing there since 2012. "I am just saying that in order to alleviate the real estate housing shortage that we currently have in the neighborhood, and in order to bring additional businesses and jobs into a neighborhood that is sorely lacking in service, we have to consider the possibility that maybe developing Trumbull as our small commercial corridor to continue job growth is something we should be looking at."

Pereira says he met with representatives from Trumbullplex on Tuesday afternoon, but a resolution has yet to be made.

"I have presented my side — the problem is, neither side has talked to each other," he says. "I mean, these are my neighbors — the last thing I want is to destroy what I think is a great asset in the community, I think Trumbullplex has done terrific things in the community for many, many decades, so I believe that there is common ground if they choose to proceed down that path. It's really going to be up to them."

What that path is — stepping aside and letting Pereira do his thing? — was somewhat unclear when we asked.

The two bids are now in the hands of the city.

"A developer came to us with a proposal to buy the parcels, and, as is standard practice, we notified nearby neighbors," Dan Austin, Mayor Mike Duggan's deputy communications director, says in an email.

While Trumbullplex says they've had to scrape together "thousands of dollars," their email doesn't mention that the group had to pay off delinquent property taxes in order to be eligible to submit an application for the neighboring lots, says Austin.* Pereira offered the city $5,000 per lot — a total of $10,000 — and Trumbullplex was then given the chance to match that — which they did.

"The Trumbullplex decided to match the developer's offer. We should be notifying the parties in the next few days on a decision, though typically, we give priority to the owners of adjacent property," Austin says. "The deal would still be contingent upon Planning signing off and approval of City Council."

The conflict between Pereira and Trumbullplex is an interesting one, as it directly confronts two very different visions for Detroit and its residents. One that believes whimsical $2,000 homes and commercialization is the key to fighting blight and one that sees open shared land as the answer.

Trumbullplex began formally in 1993 when a nonprofit called the Wayne Association of Collective Housing bought two houses on Trumbull a few blocks north of Grand River. As Curt Guyette explained in a 2009 feature on Trumbullplex, the group has long put the community and sharing first.

"Staging performances and art shows, tending fruit trees in the back yard, growing some of their own food at the house and participating in a larger community garden down the street, kicking in $20 a month to buy grains and beans and lentils in bulk to keep the cost down — all these things are examples of communal living that can serve as a positive example for those suffering through the financial downturn," wrote Guyette.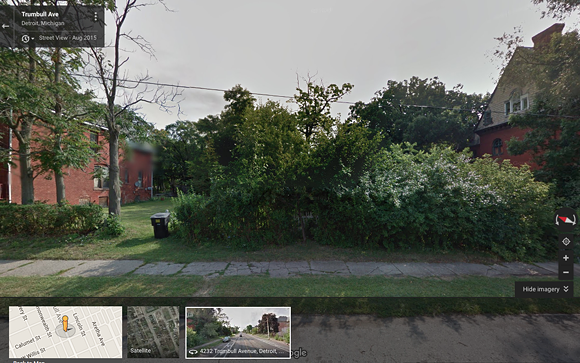 Pereira, however, may not recognize these moves as signs of success. In February 2015, for example, when he was renovating a home in the fashion of of the animated flick
Up!
Pereira told WDIV that he believed the Disney film was a direct reflection of the city.
"The story of 'Up' is an older gentleman who had kind of given up on life, old Detroit," Pereria told the station. "The new guy comes in, the new little kid, and together they form this great adventure and they go off to do greater and bigger things than they thought were possible."
Trumbullplex is unconvinced that Pereria is doing "greater and bigger things" for the city.
Without further ado, we leave you with Trumbullplex's letter.
AN OPEN LETTER FROM TRUMBULLPLEX
TO OUR FRIENDS & NEIGHBORS:

We at the Trumbullplex were notified by the city this past Thursday (6/2) that an undisclosed developer (later revealed to be Alex Pereira of Lorax House infamy) had placed a bid with the city to purchase the two adjacent lots between our properties and the home of our dear neighbor Saneetha Satterwhite on Trumbull between Calumet and Willis in Woodbridge Farm. We were informed that if we wanted to keep this developer from purchasing these lots and turning it into a parking lot for his construction equipment, we would have only a week to gather thousands of dollars and file the appropriate paperwork to attempt to buy them ourselves. This came as quite a shock.
As most of our close neighbors can tell you, Saneetha and the Trumbullplex residents have been caring for these lots for as far back as 1993. We hauled away the rubble from the structures that used to stand there, erected a fence to buffer the lots from the street, planted herbs and fruit trees, put out benches and picnic tables, and turned those once waste-laden vacant lots into a livable, enjoyable community green space. We have held meetings in those lots, shared meals, celebrated birthdays, and enjoyed the open air of our beautiful community. We have tended memorial gardens for our late collective members Oona and Emma, who were taken from us far too soon in a car crash. We have used our own time and money to prune the trees, mow the lawns, and pick up trash blowing in from the street. Those lots are part of our home and a valuable greenspace to many of our nearby neighbors.
We and Saneetha have petitioned the city many times to purchase those lots through the city side lot program over the past decade or two, but each time were told to wait for them to become available through the land bank.
Despite our financial hardship as we begin needed restoration of our Corner House, we submitted our bid for the lots this evening.
We ask our friends and neighbors stand with us to protect our rights to these well loved properties. We demand that Alex Pereira stand down and allow our little Woodbridge Farm community to make its own decisions about land use. There are plenty of other available properties, you don't need to snatch out from under your neighbors.
*Trumbullplex has since emailed MT saying they sent in three checks to pay their property taxes but, according to them, only one was cashed. Trumbullplex contends that they were unaware that they were delinquent on property taxes until the city got in touch about the side lots.