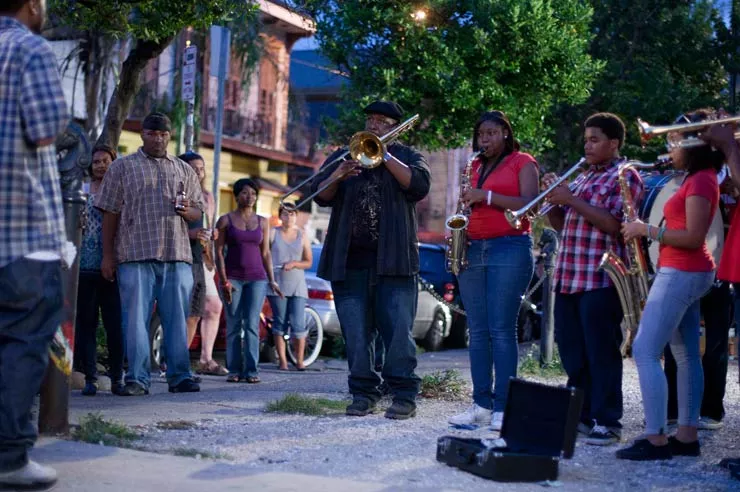 In 2004, I crashed on my cousin Frank's couch for a week at his home on St. Philip Street in New Orleans. This was a year before Hurricane Katrina, and gentrification was taking root in the neighborhood. Contractors were busy converting duplex "shotgun" houses into single homes, in most cases converting the two three-room flats into a six-room configuration more attractive to middle-class buyers.
Frank had a bicycle that I used to get around town that week. One evening I borrowed the bike and headed down St. Philip in the direction of the French Quarter, Bourbon Street and all that. After a couple of blocks the streetscape took a downturn. The houses were ragged and groups of people I assumed to be drug dealers stood on corners. I paid little attention to them and headed on my way.
Later, on returning to my cousin's house, he was livid. He said that had I gone in any other direction it would have been OK — that I had gone into a dangerous neighborhood and could have been killed. As it turned out I had gone into Treme.
The Treme neighborhood is now familiar to millions of non-New Orleanians due to the popular HBO program named for it. Treme, which follows a diverse group of people as they attempt to recover and put their lives back together after the devastating Katrina, is going into its third season. As part of the buildup to this season the concert tour "A Night in Treme: The Musical Majesty of New Orleans" stops Friday at Hill Auditorium in Ann Arbor. The lineup — Rebirth Brass Band, Donald Harrison Jr., Glen David Andrews, James "12" Andrews, Dr. Michael White and Cyril Neville — presents a wide swath of New Orleans music. Most of the performers on tour have appeared in the TV show.
Trombonist Glen Andrews is one musician whose life changed profoundly after the flood. He kicked a drug habit and became a community leader fighting to save the traditional New Orleans neighborhoods. He was raised in Treme and found himself living in a trailer in the aftermath of the flood. He sees resilience in the people there.
"I saw the citizens of New Orleans rebuild this city brick by brick," says Andrews. "We will never let our culture die. If we let New Orleans die it's like France losing Paris. The reason I am who I am is old cats. I've been paying traditional jazz all my life and coming from the Treme neighborhood I got to know that music."
Andrews was 25 when Katrina hit. He'd been a street musician and a sideman for much of his life, but living through the disaster taught him he needed to change his ways. In addition to being a compelling speaker and a leader of political demonstrations, he focused on the brass band and traditional music that he'd grown up with. Andrews now leads his band in weekly shows at Preservation Hall in New Orleans and on tours worldwide. I had to schedule my phone interview with him around his time on the set of Treme.
"The show helps New Orleans," says Andrews. "The city is still thriving with culture. When people come to New Orleans, instead of staying in the French Quarter, now they want to go to Treme. It's the best thing that could happen to us and musicians and me as a representative of that neighborhood. The show exposes me to 5 to 10 million people every week."
But Andrews sees the downside of his hometown too. "New Orleans is back, but we have a lot of problems, crime problems."
He likens some New Orleans issues to things going on in Detroit. He was in Michigan recently and saw news about people stealing copper wire from light poles. He also heard about plans to downsize Detroit and stop services to some parts of the city. That's like parts of New Orleans, he says, "They have no plans for these places to come back."
Some of those negatives weigh on the mind of clarinetist Dr. Michael White, too. "I'm just trying to get my head around why 10 people got shot last night," he told me. He got the number wrong, 16 people were shot and two killed in five different incidents in New Orleans the Night of Oct. 31. We didn't get that on Halloween night here, but it sounds like the kind of news we wake up to from time to time.
White is probably the most pure traditionalist among the "Night in Treme" performers. The Rebirth Brass Band mixes their sound with funk and hip hop. Saxophonist Donald Harrison Jr. is a modern jazz player, although he weaves in traditional black Indian music and has collaborated with hip-hop artists. Trumpeter James "12" Andrews (brother of Trombone Shorty and cousin to Glen David Andrews) is a protégé of the singer-songwriter-producer Allen Toussaint (author of "Southern Nights," "Working in a Coalmine," etc.). Singer-percussionist Cyril Neville comes from the legendary Meters funk band and his R&B classic family group. White, 57, came up playing music mostly with the older generation.
"I played with more than three-dozen guys born before 1910, guys who played with Louis Armstrong and Jelly Roll Morton," he says.
His new compositions maintain the style and flavor of music that was made a century ago. "I been here all my life," he says. "I saw the last days of the traditional style brass bands that we're out in the community playing church parades, social club parades and funerals. ... The culture of New Orleans is like a big head of lettuce. You have to peel back each layer. New Orleans culture is not one thing but a mixture of many things. I still don't have it figured out yet."
Maybe that's why the show Treme has an ensemble cast and follows the stories of about a dozen characters, about half of them musicians. And that doesn't include the guest appearances by real musicians such as Irma Thomas, Dr. John, Kermit Ruffins, Allen Toussaint and numerous others who play themselves. One exception to the cameo appearances is guitarist Steve Earle, who plays a kindly elder statesman to the street musicians and provides a connection to Cajun music. However his character dies near the end of Season 2.
In the first season, Elvis Costello makes a cameo appearance as a guest at Vaughan's Bar in the Bywater neighborhood where trumpeter Kermit Ruffins is playing. Costello is coy about approaching Ruffins, and the trumpeter is typically New Orleans-centric in not knowing who Costello is.
There are plenty of New Orleans neighborhoods other than Treme with great music history, but it serves well as a vehicle to focus the HBO show. Treme surrounds the area of what was once called Congo Square, a marketplace where free and enslaved blacks congregated on Sundays in the 1700s and 1800s to play traditional African music and trade goods. It's arguably one of the oldest black neighborhoods in America; free blacks bought land adjacent to Congo Square, which, in 1850, was out on the edge of town.
Today Treme is so close to the center of New Orleans it's hard to imagine that this was once outside the main drag. Things change, but other things endure. Treme is no longer and never will be what it once was. Too many people left after Katrina. But as it comes back it is still central to the ideals of New Orleans, and it's a key image for what its revival will be. Let's see, where can we start in Detroit?
For more about "A Night in Treme" see ums.org.