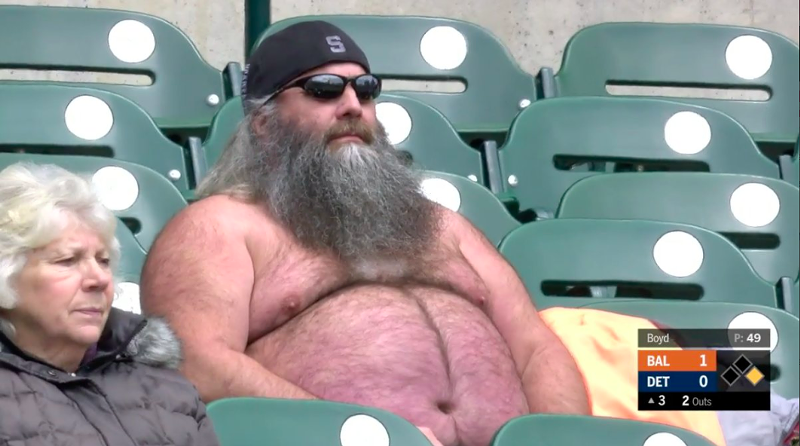 There comes a time when one must say enough is enough, and be the change they wish to see in
the world
Michigan.
One brave soul at yesterday's Tigers game spoke for all of us when he took off his shirt, put on a pair of shades, and gave this endless winter weather a big fuck you. Never mind the fact that it was a cloudy day and the temperature likely hadn't cracked 40 degrees by the time Fox Sports Detroit cameras caught him topless in the stands. It was the 29th day of spring, and by god he was going to treat it that way.
The mystery man in the Spartans beanie is now being hailed as a hero on social media, thanks to a viral tweet by Sports Illustrated.
It's 39 degrees this afternoon in Detroit pic.twitter.com/edXs9qBJEh

— Sports Illustrated (@SInow) April 18, 2018
His gesture came during a week in which metro Detroiters had endured freezing rain, high winds, snow, and even
an ice storm
. Since the start of baseball season just a few weeks ago, the Tigers have been forced to postpone six games due to crappy weather. Considering the context, this man's act was nothing short of revolutionary — especially because it appeared to help bring out the sun for the first time in days.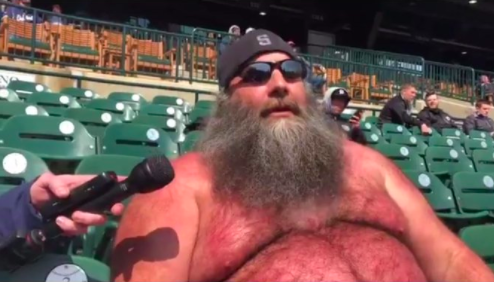 It appears that this man has taken off his shirt at every Tigers game he's ever been to. While the weather conditions prompted a woman nearby to don a parka, this guy, whose name is apparently Voz, was all good. He reportedly told a local sports writer,"I run hot."
This is #Tigers fan Voz, aka Chewbacca. He's catching a tan in 40-degree weather because he's just not into shirts. "I run hot," he said. pic.twitter.com/VbZlKQMPI4

— Will Burchfield (@burchie_kid) April 18, 2018