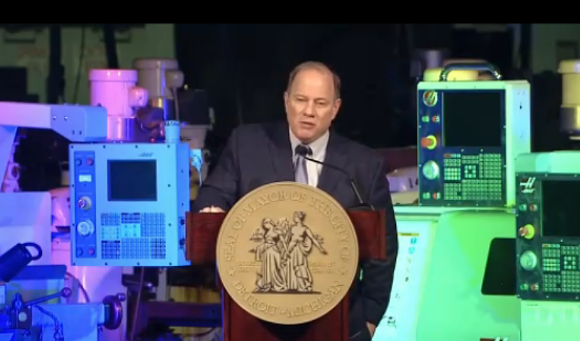 Detroit Mayor Mike Duggan used his State of the City address Tuesday night to tout several new efforts meant to lift up the city's neighborhoods and "build a Detroit that includes everybody."
Saying that "the recovery of Detroit is going to be defined by our neighborhoods," Duggan rolled out a jobs training program that he says will get hundreds of people ready for positions that are currently available throughout Detroit. He also announced $30 million in investment for three areas outside of downtown and Midtown.
The focus on reviving the neighborhoods beyond the thriving 7.2-square mile city center comes as Duggan seeks a
second term
as mayor of Detroit.
You can stream his speech below through this link via
Freep
, or skip down for the top five takeaways from Duggan's address.

On helping train residents for the jobs available:
Noting that Detroit's 9.8% unemployment rate is still Michigan's highest, Duggan kicked off the speech by announcing an initiative that will pair jobseekers with employers and provide those who need it with additional training for the positions available throughout the city. Duggan says the
Detroit at Work
program has 700 slots to get people certified or ready to work as coders, line cooks and hospital patient caregivers, among other things.
On spurring investment in the city's neighborhoods:

Duggan applauded $30 million in philanthropic investment for several of the city's neighborhoods. The fund created by the non-profit
Invest Detroit and other organizations will put money into
the Livernois-McNichols area, the West Village on the east side and southwest Detroit near Clark Park.

Duggan says residents in the communities have a say in how the money is spent. One area will see 80 homes rehabbed for families, while another will see a walkway created in place of a string of vacant lots. Duggan believes the program will lead to more neighborhood investment if it proves successful in accelerating the comeback of the three target areas.



On affordable housing:
Duggan touted efforts by the city to preserve affordable housing and ensure that new units continue to be created. His administration recently teamed up with Detroit City Council member Mary Sheffield on a
proposal
to require that developers of 20-plus unit residential projects make at least 20 percent of them affordable. The rule would apply if the properties are developed on city-owned land or in city-owned buildings.
Said the mayor: "We are not having a city where one section of the city is only available to the wealthy and the other sections are left for others, we are gonna have a city where anyone can live everywhere."
On cleaning up city streets:

In May, Duggan says the city will begin using street sweepers for the first time since 2010. Three street sweepers will be deployed. The city will also soon be outfitted with devices to clear storm water drains that lead to flooding along roads.
On the demolition program that's been subject to federal scrutiny:

Calling getting rid of Detroit's abandoned houses "a matter of life and death," Duggan said his administration would "speed up demolition of homes in full compliance with all federal and state regulations."
Federal officials have been investigating the program and last year shut it down for 60 days amid spiraling costs and questions over bidding practices. Duggan acknowledged that he "put enormous pressure on the Land Bank to move very very fast, probably faster than they had controls in place." The agency oversees the federal funding allotted to the program, which so far has received more than $250 million.
Duggan said his administration would tear down an additional 10,000 blighted homes over the next two years.
Almost 11,000
have been torn down to date.