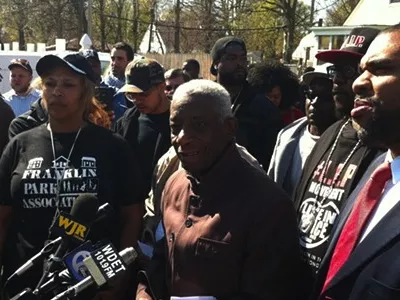 If you would like to hear some quality jazz and help out a long-time Detroit political activist, come out at 7-9 p.m. tonight, Aug. 27, at Bert's Marketplace, 2727 Russell St., in Detroit's Eastern Market, for a special fundraiser to benefit Ron Scott, local activist, lawyer and TV host, alongside the usual RGB Trio Open Mic Jazz Jam.
Scott has been a vital voice in Detroit's social and political justice scene for over 30 years. Growing up in the Jeffries Projects and participating in the civil rights movement, Scott saw the implications of police brutality first-hand and knew something had to be done.
"I like to call myself a 'Transformational Anthropologist.' I am deeply interested and engaged in activities and projects that change human and social behavior in the direction of peace and reconciliation," Scott says on his About.me page titled "How to Change the World".
Scott has participated in marches, worked with politicians on their reform policies, and was an early producer for one of the longest-running African American-focused shows in the U.S., "Detroit Black Journal". Currently he is a spokesperson for the Detroit Coalition Against Police Brutality and is still spreading his message of peace and togetherness.
The cover charge for the fundraiser is only $3 along with food and cocktails. Come by and help a local fighter for our rights get past some financial and health issues.