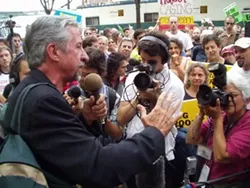 Tom Hayden, one of the key figures of the 1960s civil rights and antiwar movements, has died at 76. The Metro Detroit native sowed the seeds of his future activism while a student, first at the now-defunct Dondero High School in Royal Oak and then at the University of Michigan. He edited the
campus newspapers at both educational institutions.

In 1960, amid a growing climate of political unrest, Hayden helped found Students for a Democratic Society in Ann Arbor. The organization, which coordinated student activism efforts around the country, outlined its aims in a manifesto authored primarily by Hayden. Titled The Port Huron Statement in reference to the location of the group's first national convention, the document closes with the words: "If we appear to seek the unattainable, as it has been said, then let it be known that we do so to avoid the unimaginable."


Metro Times columnist Jack Lessenberry wrote on MichiganRadio.org Monday: "Had it been Hayden who was awarded the Nobel Peace Prize, I wouldn't have been surprised."

The weapons Hayden lifted against the system as a young adult were eventually laid down, as the progressive radical with a 22,000-page FBI file began working to make change from within.

Hayden was married to actress and fellow activist Jane Fonda from 1973 until 1990.
After a failed campaign for the U.S. Senate in 1976 — during which he was quoted as saying, "The radicalism of the 1960s is fast becoming the common sense of the 1970s" — Hayden ultimately was elected a state assemblyman and later a state senator in California.
"The radical inside the system," as one of his former advisors described him, continued championing progressive causes from this new vantage point for decades. Focusing on causes such as solar energy, rent control, animal rights, and postsecondary education, the scope of Hayden's progressive politics was broad.


Asked for comment on Hayden's legacy, former Detroit City Councilwoman Sheila Cockrel cited his unique ability to find "the underlying issues" connecting seemingly disparate social movements, a skill he developed while "on the vanguard of linking the civil rights movement to the antiwar movement." Politics, after all, isn't a single issue, but a platform of interrelated issues.
You can read a story Hayden wrote for
Metro Times
on the 10-year anniversary of the 9/11 attacks
here
.