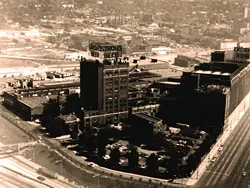 Detroit's love affair with beer has been a staple for nearly two centuries, dating back 184 years when an issue of the Cleveland Herald heralded a shipment of Detroit beer making its way down the Great Lakes. At the time, dark, robust ales were the rage, due largely to a wave of early English immigrant brewers.
In the 1840s, a new wave of immigrants from Germany arrived in Detroit, which would radically change the landscape of beers. The Germans introduced us to the classic German lager, which boasted a crisper, cleaner, draft than its English cousins.
It was around this time that Bernhard Stroh immigrated to the United States during the German Revolution. Having apprenticed at his father's side in Kirn, Germany, Bernhard established his own brewery in Detroit in 1850.
Stroh named his new company Lion's Head Brewery, adopting the Lion's Crest logo from the Kyrburg Castle in Germany the same crest that adorns Stroh beers today. He began by Bohemian-style pilsner, which had been developed at the municipal brewery of Pilsen, Bohemia, in 1841.
In the spring of 1917, tragedy befell upon Detroit's brewing industry. Michigan implemented a statewide ban on beer three years before the 18th amendment, which ushered in the era of Prohibition.
Once a booming beer town, most of Detroit's brewers fell victim to the ban. The few that remained truly personified the "survival of the fittest." Some brewers turned to making canned hopped malt syrup, an essential ingredient for home brewing. Detroit brewer, John Zynda famously took his operation underground by transporting beer, via a tunnel he dug himself, to a nearby garage. Stroh began producing near beer (beer with its alcohol extracted), birch beer, soft drinks, malt products and ice cream, which is still available today.
Recognizing the error of its ways, Michigan was the first state to ratify the 21st amendment, which repealed Prohibition. However, Michigan beer was still in trouble. After the end of Prohibition, breweries sprung up over night, competing viciously with one another. After World War II, television advertising took the beer industry to the national market, spelling an end for the smaller, regional breweries.
In 1964 Stroh made its first move toward expansion when it bought the Goebel Brewing Company, with an eye toward national distribution. As other national brands began to enter the Detroit market, Stroh began to aggressively pursue other markets, but even after expanding to more than 20 states, Stroh was unable to stand up to giants like as Anheuser-Busch and MillerCoors.
In 1985 the company closed its iconic Stroh brewing facility located downtown, near Interstate I-75 and Gratiot Avenue. This was a huge blow to the local economy and image of the Detroit community.
In 1999, Stroh was broken up and sold piecemeal to Pabst and Miller, with ice cream operations being taken over by Dean Foods. Stroh's beer, with the classic lion insignia first dreamed up by Bernhard Stroh, is still sold by the Pabst Brewing Company.
Ever the thirsty state, Michigan has since passed laws allowing breweries to sell and serve beer on the premises.
Today, Michigan now ranks 5th in the nation for its number of breweries, but let us not forget one savvy brewer who rose up and made the nation take note of Detroit for its beer.
Kelly Johnston photographs life for the Metro Times. Send comments to [email protected].